Ivy Market Grill Does Brasserie Dining Trend Better Than Its Rivals
by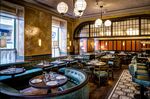 It's that time of year when people like to make predictions about trends for the coming 12 months.

Funny how those forecasts frequently describe what has been happening over the past year. Let's face it: We probably see more in a rear-view mirror than a crystal ball.
In such a spirit, I'd like to boldly go where no man has gone before and say that all-day brasserie-style dining is likely to become increasingly popular in London in 2015.
These places are popping up all over. Now, the new Ivy Market Grill joins Holborn Dining Room, Strand Dining Rooms, the ace Zedel, and Heddon Street Kitchen (reviewed here) in ploughing a not-so-lonely furrow that was popularized by The Wolseley in 2003.
What distinguishes Ivy Market Grill from much of the recent competition is that it is better. Sure, the menu is -- shall we say? -- a "homage" to the Wolseley in terms of design, but the prices are low and the cooking doesn't lack ambition.

Prix Fixe Value
The pre-theater option (served from 5 p.m. to 6:30 p.m.) is particularly good value at 16.50 pounds ($25.86) for two courses and 21 pounds for three. You might start with smoked mackerel rillettes served in a jar with lemon, pepper, and granary toast. No shortage of flavor there.
Then, if you are not really poor or too tight-fisted, you can splash out a 3.50 pounds supplement and order steak frites: Australian rump with fries and watercress. The fries aren't the best -- limp and lukewarm -- but just push aside the green stuff, slap on some mustard and ketchup and you are away.
Even the desserts are worth ordering. The baked meringue with vanilla cream and clementine jam is particularly enticing, without being too sweet; a plate of Keen's Cheddar with granny smith apples and crisp breads is pretty good, too.
Vegetables? Why Sure
If you go a la carte, the prices are still forgiving. Most starters cost less than 10 pounds, and I've had some good ones. The winter salad comes with shaved apple, hazelnuts, golden raisins, and celery, with a Stilton dressing.
I don't make a habit of ordering salads, but they're okay as an occasional change from meaty offerings. Come to think of it, the mushrooms on toast, with marjoram on toasted brioche, are decent, too; and the baked open ravioli with spinach, peas, broad beans, creamed ricotta, and basil isn't bad.
It's like I'm having a strange vegetarian turn. Avocado, tomato, and sesame on the breakfast menu has caught my eye, and what's that sandwich? HLT -- grilled halloumi cheese, lettuce, and tomato with French fries. That sounds goooood.
Okay. There's a bunch of fish and steaks available from the grill, and I have a soft spot for Chicken Milanese: brioche-crumbed bird with fried hen's egg and black truffle. I am very relaxed with comfort food, especially when it's inexpensive and served in a restaurant with a hint of glamour.
Be warned: Some restaurants start with low prices, which they increase once the critics have been through. I am not for a moment suggesting that Ivy owner Richard Caring would do any such thing. Certainly not. (Dear lawyer: Does that cover it?)

Democratic Dining
The restaurant name is slightly misleading. Ivy Market Grill is a different kettle of fish from The Ivy, which is closing for a renovation. (Among other things, they are taking down the wall that divides the bar from the dining room.)
Where the Ivy feels clubby and exclusive, Ivy Market Grill is more democratic, the kind of place you might find the populist politician Nigel Farage at the next table, though not White Van Man from the recent Rochester by-election. The service is friendly and efficient.
The low prices can free up funds for good wines such as the Chardonnay, Morgan 'Double L Vineyard', California 2012, at 90 pounds. The house Champagne is 55 pounds. If you fancy something unusual, there's a Uruguayan viognier -- Bodega Garzon 2013 -- at 34 pounds that is easy drinking.
Mirror Mirror
You might say the Ivy Market Grill occupies territory somewhere between classic and old-fashioned. You'd be wrong.
It is the restaurant of the moment, a trend-setter, the future of London dining, the most important development since the discovery of the hamburger a couple of years ago. It captures the zeitgeist before that zeitgeist even exists.
I look into the mirror on the wall and what do I see?
2015.
Ivy Market Grill is at 1 Henrietta Street, Covent Garden, London, WC2E 8PS. +44-1-3301-0200 or theivymarketgrill.com
(Richard Vines is the chief food critic for Bloomberg. Follow him on Twitter @richardvines)
Before it's here, it's on the Bloomberg Terminal.
LEARN MORE