How Special Prosecutors Can Help Bring Police to Justice
Giving authority to independent investigators is one way to increase police accountability
Ali Winston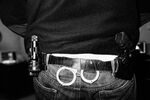 In the aftermath of the Michael Brown and Eric Garner deaths in Ferguson and Staten Island, the cases of the police officers involved were referred to grand juries. This is standard procedure in the U.S., where district attorneys are responsible for making cases against cops when things go wrong. Sometimes, it works. On the same day that a Staten Island grand jury declined to indict Daniel Pantaleo, the officer who put Garner in a fatal chokehold, a grand jury in Orangeburg, S.C., announced the indictment of the white former police chief of Eutawville on murder charges in the shooting death of an unarmed black man named Bernard Bailey outside the town hall in 2011. It was the third indictment of a police officer in South Carolina in four months. "We don't know what brand of justice they serve in Ferguson, and we don't know what brand of justice they're serving in New York City, but here in South Carolina, we believe in the jury system," said Carl Grant, a lawyer for the Bailey family, after the indictment was announced.
Often, the system fails. Local prosecutors work closely with police, relying on them to make cases and serve as witnesses, creating a conflict of interest for DAs when cops who do wrong. "It's very difficult to ask prosecutors who depend on police every day to be the ones to arrest and prosecute police," says Erwin Chemerinsky, dean of the University of California at Irvine School of Law.
In France and Spain, police shootings, in-custody deaths, and official corruption are handled by an investigating magistrate. The position combines the powers of a judge and the police, with the power to initiate investigations independent of regular local prosecutors. In New York, state Attorney General Eric Schneiderman has asked Governor Andrew Cuomo for authority to take over cases involving police who kill civilians. But there's historical precedent for an even stronger approach. In 1973, Governor Nelson Rockefeller, a Republican, created a special prosecutor to deal solely with cases involving police corruption in New York City. The move, which drew opposition from the city's five district attorneys, followed the exposure of graft and corruption in the New York Police Department. Headed by gubernatorial appointees, the office pursued a range of cases, including investigations into judicial corruption and the indictment of 13 Brooklyn officers on charges of staging burglaries and extorting drugs and money from narcotics dealers. Six were convicted, and six were fired; one committed suicide.
The position was dissolved in 1990 by Democratic Governor Mario Cuomo and the New York state legislature on the basis that it had outlived its purpose. Cuomo argued the funds used to run the office would be better spent on narcotics policing, according to John Poklemba, then director of criminal justice for New York state. It wasn't long before lawyers were complaining about the decrease in accountability and an increase in police intransigence in corruption investigations. In 1988 six police officers were fired for police brutality, and 19 were let go for official misconduct, compared with just one firing for misconduct and brutality in 1991. "It is evident that reduction in disciplinary actions parallels the abandonment of the special prosecutor's office," John Kenney, formerly the chair of the New York City Bar Association's Committee on Criminal Law, wrote in a 1993 letter to the New York Times.

In the late '90s, corruption in the Los Angeles Police Department's Rampart division prompted calls from lawyers for the appointment of a standing investigative authority. A report commissioned by the Los Angeles police union called for independent reviews and the creation of a permanent special prosecutor for police misconduct. Instead, the LAPD agreed to Department of Justice monitoring, and no changes were made to the police department's established internal review process.

Even when special prosecutors are put in place, American criminal case law still tends to favor police. "Our system gives people claiming self-defense carte blanche in lethal incidents, particularly police officers," says Eugene O'Donnell, a former NYPD lieutenant who's now a professor at the John Jay College of Criminal Justice. Because so few cases of police violence wind up being criminally prosecuted, civil courts have become the de facto fail-safe for holding law enforcement accountable to civilians or their families in cases of death or injury. It's an expensive way for police departments to manage bad apples: In 2013, New York City spent $428 million on legal settlements involving the NYPD. Such civil settlements rarely lead to changes in training or institutional culture that ultimately reduce episodes of mistreatment or excessive force. "The police are part of a system that is brutal at every level," says O'Donnell. "They're agents of coercion, and it isn't pretty."
— With assistance by Margaret Newkirk
BOTTOM LINE -
The bottom line: Local prosecutors rely on police, creating incentives to not indict cops.
Before it's here, it's on the Bloomberg Terminal.
LEARN MORE