From Rollerblading to Disc Golf: A History of America's Expired Sports
Julie Ma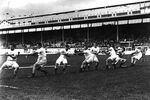 Pedestrianism
Competitive walking marathons were the dominant sport in the 1870s. Pedestrians would walk day and night around dirt tracks, covering as much as 600 miles in six days. Peds, as the athletes were called, were the country's first sports stars, scoring lucrative sponsorship deals. But by the mid-1880s, doping and fixing scandals had killed the industry.

Jai Alai
Jai alai—kind of like really fast squash—gained popularity in the 1920s as gambling on it flourished. From the '50s to the '70s, indoor courts cropped up from Connecticut to Las Vegas. The sport met its demise in the '80s after a series of cheating scandals and a three-year-long players' strike, only to be replaced by a new betting craze: horse racing.
In-Line Skating
After Rollerblade premiered its skate with a single row of wheels in 1980, in-line skating became one of the fastest-growing sports; the company did almost $400 million in annual sales in the '90s. The craze cooled in the early Aughts: From 2000 to 2010, the number of in-line skaters dropped 64 percent, to 8 million.
Tug-of-War
In 1900, tug-of-war was added to the Olympic Games. A team included eight men who had to pull the opposition 6 feet in 5 minutes to win. Following the 1920 games, with serious athletes complaining it wasn't a real sport, the International Olympic Committee axed the event.

Disc Golf
Once Wham-O rolled out the Frisbee in 1957, college students invented a host of flying-disc games. The most prominent was disc golf, in which players had to hit targets with their new toy. The hobby gained devotees across the country, because it was both accessible and affordable: A disc cost less than $10, and admission to courts was usually free. While it was a hit recreationally, it failed to gain spectators, and players eventually moved on.
Bungee Jumping
Invented by members of Oxford University's Dangerous Sports Club in 1979, bungee jumping spread quickly as an easy adrenaline rush. Daredevils could pay less than $100 to jump at state fairs and amusement parks. In 1990, the U.S. Bungee Association was formed to develop coherent guidelines, but the springy ropes became taboo by the end of the decade after a few heavily publicized deaths.
Before it's here, it's on the Bloomberg Terminal.
LEARN MORE