Former Nigerian Military Ruler Buhari Wins Opposition Ticket
Yinka Ibukun and Emele Onu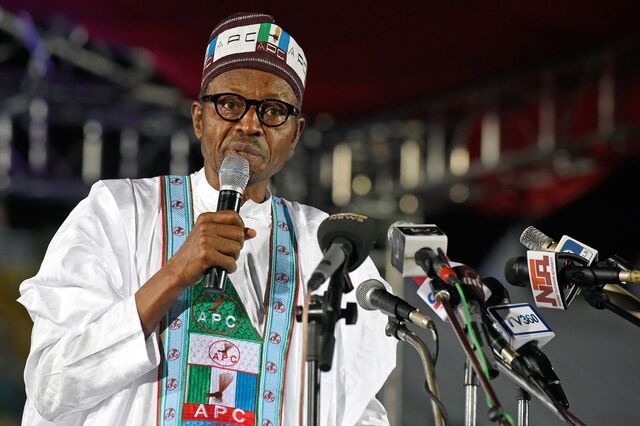 Former Nigerian military ruler Muhammadu Buhari beat ex-Vice President Atiku Abubakar to emerge presidential candidate of the main opposition All Progressives Congress before elections in February.
Party delegates from the country's 36 states who voted at the national convention in Lagos, the commercial capital, gave Buhari a wide margin of victory with 3,430 votes leaving the four other contestants sharing less than 3,000 valid votes. Buhari will face President Goodluck Jonathan in Feb. 14 elections, his fourth run for the highest office in Africa biggest oil producer.
"It's a demonstration of democracy at work," Buhari, dressed in traditional white flowing robes, said in his acceptance speech at the Teslim Balogun stadium. "I understand and accept the hard challenge I face. We'll strive to secure the country and efficiently manage the economy."
Buhari, a 71-year-old northern Muslim, came to power in 1983 in an army coup and ruled for 20 months. He lost the 2011 presidential vote to Jonathan of the ruling People's Democratic Party, or PDP. He also failed to win the presidency in 2007 and 2003. Abubakar was vice president from 1999 to 2007.
"It will be a tough election," Bismarck Rewane, chief executive officer of consultancy Financial Derivatives Co., said by phone from Lagos today. "The two parties have their strong supporters. Buhari after winning has to present to Nigerian people his solutions to economic efficiency, ending insurgency and tackling corruption."
The APC, formed last year with the merger of three of the biggest opposition parties and factions of smaller ones, probably poses the stiffest challenge ever to the PDP's grip on power. The ruling party has won all general elections since Africa's largest economy ended more than 15 years of military rule in 1999.
Northern Champion
"Buhari is wildly popular in much of the north and his tough line on corruption will resonate with many voters angered by institutional graft and impunity," Roddy Barclay, a London-based analyst at consultancy Control Risks Group said by e-mail on Dec. 5. "But as a champion of the north who is perceived to have an uncompromising stance, he has struggled in the past to make real inroads in the south."
Jonathan, 57, a Christian from the southern Niger River delta, faced a fragmented opposition in 2011, winning the elections in the first round, with 59 percent of the ballots and more than the required 25 percent of the vote in two-thirds of Nigeria's 36 states. Nigeria is a nation of more than 170 million split between a mainly Muslim north and Christian south.
Abubakar, 68, conceded to Buhari before the vote counting finished. He came third in the ballot with 954 votes, behind Rabiu Kwankwaso, the governor of the northern state of Kano, who gained 974 votes.
"I call on all other contestants and our party's rank and file to unite behind our candidates at all levels to ensure that the PDP is defeated, so Nigerians can have real change," Abubakar said in an e-mailed statement.
Before it's here, it's on the Bloomberg Terminal.
LEARN MORE