ECB Case for QE Boosted by Muted Long-Term Loan Take-Up
Alessandro Speciale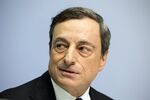 The European Central Bank's second round of long-term loans came in at the low end of analysts' estimates, bolstering the case for the institution to start large-scale quantitative easing.
The Frankfurt-based ECB said it allotted 130 billion euros ($162 billion) to euro-area banks at a fixed interest rate of 0.15 percent in its targeted longer-term refinancing operation. Estimates in a Bloomberg News survey ranged from 90 billion euros to 250 billion euros, with a median of 148 billion euros.
The TLTROs play a key role in President Mario Draghi's drive to revive the euro-area economy by injecting as much as 1 trillion euros in liquidity into the financial system. Today's offer will fuel the debate among policy makers over whether current stimulus is enough, or if they need to start buying assets such as government bonds.
"It now looks close to impossible for the ECB to achieve anywhere near a trillion euro balance-sheet expansion with its existing measures," said Nick Kounis, head of macro research at ABN Amro Bank NV in Amsterdam. "It will need to broaden asset purchases, and sovereign bonds will need to be part of the mix. The bottom line is that the disappointing TLTRO outcome has brought sovereign QE another step closer."
The euro fluctuated after the announcement and was down 0.1 percent at $1.2434 at 2:24 p.m. Frankfurt time. Italian government bonds rose for the first time in three days before later erasing the gains.
Stimulating Credit
The TLTRO program got off to a slow start in September when the first round raised less than all estimates in a separate Bloomberg News survey. The two operations combined have lent 212 billion euros, compared with the ECB's calculation of a total eligibility of 400 billion euros.
Six other TLTROs will be conducted through 2016, with the size of loans linked to banks' new lending to companies and households. All the loans mature in September 2018.
"The TLTRO take-up in the second operation was within the ECB's and market estimates and expectations," Executive Board member Benoit Coeure said in a statement. "We can clearly see that the TLTROs contribute to improving banks' access to longer-term liquidity. Together with our other measures they create conditions that stimulate credit growth to the real economy and reduce financial fragmentation in line with our policy goals."
Italian Borrowing
Italian banks played a prominent part in the newest TLTRO. Banca Monte dei Paschi di Siena SpA borrowed 3.3 billion euros, Banco Popolare SC took 2.7 billion euros, and Banca Popolare di Milano Scarl took 1.5 billion euros, according to spokesmen for those banks. Intesa Sanpaolo SpA took 8.6 billion euros, and Unione di Banche Italiane SCpA borrowed 3.2 billion euros.
The challenge for the ECB is that its balance sheet has barely budged as new liquidity injections are offset by repayments of crisis-era loans issued in 2011 and 2012. Those mature by February, with banks still on the hook for 257 billion euros.
That's spurring policy makers to look for other ways to boost the balance sheet. Draghi said last week that the ECB is "getting more control" by buying assets directly. It started purchases of covered bonds in October and asset-backed securities last month.
More Control
Inflation in the 18-nation euro area was 0.3 percent in November, matching a five-year low. A plunge in oil prices is putting further downward pressure on the rate, which ECB Chief Economist Peter Praet said this week could turn negative in coming months.
Draghi said on Dec. 4 that the Governing Council has discussed all assets except gold for the potential expansion of its purchase programs. A QE package will be prepared for consideration at the ECB's Jan. 22 monetary-policy meeting, according to euro-area officials familiar with the matter.
Policy makers including Executive Board member Sabine Lautenschlaeger and Bundesbank President Jens Weidmann have both spoken out against sovereign-bond purchases, saying they undermine the incentive for governments to make structural adjustments and would have to overcome high legal hurdles.
"The combination of low TLTRO figure and declining oil prices might tip the balance as some of the more reluctant Governing Council members will have to give in," said Frederik Ducrozet, a Paris-based economist at Credit Agricole. "Odds of large-scale asset purchases are rising, with a pre-announcement possible on Jan. 22."
Before it's here, it's on the Bloomberg Terminal.
LEARN MORE