Detroit's Post-Bankruptcy Plan to Be 'Normal' Again
By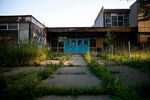 As of midnight, with the start of Thursday, Detroit is no longer bankrupt.
Since July 2013 the city has been hashing out a plan to clean up its finances, ultimately slashing its debts by about $7 billion. It did this without having to sell the city's prized art museum or force major pension cuts on retirees. Alongside shedding the legacy of past financial mistakes, the bankruptcy also forced Detroit to look at its future and figure out what, exactly, it will take to survive on its own.
The city laid out those priorities in its boringly titled "Restructuring and Reinvestment Plan" (PDF), which calls for spending $1.7 billion over a decade to improve the quality of life for residents. The plan details massive initiatives and small projects, down to the $2 million to build a new jetway at the airport. The first and biggest order of business: dealing with the rundown properties and vacant lots spread across much of the city.
Detroit earmarked $420 million for blight removal in the next decade, with about $100 million to be spent in 2015 alone. In the spring, the city and community groups surveyed every parcel of land and found more than 80,000 properties in some stage of disrepair. A tenth of all structures in Detroit will need to be torn down immediately, more than 20,000 of which are in "tipping point" areas slated for urgent attention. Those are neighborhoods where a quick intervention could help prevent slipping into further blight.
Dealing with these areas is a huge task for the city, which has only recently begun managing blight on any large scale. "In addition to being, by far, the greatest cost included in the Reinvestment Initiatives, the removal of blighted structures also carries the greatest amount of variability," Detroit's expert adviser, Charles Moore of the restructuring firm Conway MacKenzie, wrote in a court filing.
The next major chunk is $340 million set aside for the police. About half of that money will go toward hiring civilians to work desk jobs so officers can start patrolling again. That alone will increase the force on the streets by more than 12 percent. Detroit police respond to critical 911 calls five times slower than what's considered sufficient, in part because there aren't enough officers on the beat.
After blight and police, other fixes on Detroit's to-do list include:
• About $85 million will go toward training the fire department to respond to both fire and medical emergencies, something Detroit, unlike most cities, doesn't do.
• Another $54.8 million is for the city's transit system, in part to set up its own police force, which the city says is necessary because bus drivers make more than 30 calls to 911 for help each month.
• And $25 million will be used to upgrade the city's computer hardware and software so that city workers won't be stuck using Windows XP.
Even with its long to-do list, the city's not shooting for glory. Instead, as Moore wrote, the plan is to provide "adequate levels of municipal services and fund normal municipal operations." Just doing that would mark a new era for Detroit.
Before it's here, it's on the Bloomberg Terminal.
LEARN MORE