Democrats (and Republicans) Bristle at Questions About Dodd-Frank Reform Tucked into Cromnibus
Senators are suddenly being asked how the banks got what they wanted.
By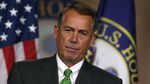 Shortly before his House of Representatives narrowly advanced the "Cromnibus," shortly before almost all Democrats opposed it, Speaker of the House John Boehner told reporters that the critics of an increasingly infamous rider were all wet. His office had already issued a statement, pointing out that a provision reversing part of Dodd-Frank had once appealed to Frank himself. It was a stretch, but it was his story.
"The Democrats have supported this provision in the past," said Boehner. "It was agreed to in this bill–a bipartisan, bicameral agreement."
Boehner called on Public Radio International reporter Todd Zwillich, who asked a devil's advocate question in the sort of terms Massachusetts Senator Elizabeth Warren used for discussing the reform. "Why should big banks be able to trade derivatives and have their risks covered by us, covered by taxpayers?" he asked.
"I don't believe that's the case," said Boehner. 
He moved on. Senate Democrats hadn't. Warren had previously said it was "up to the House" to defeat the provision, and now that it was unlikely to do so, her colleagues were largely unhappy with being jammed.
"I don't like it being in the bill," said Democratic Senator Jon Tester of Montana, a member of the Banking committee. Asked if there was a way to remove it, he deferred. "I don't. Any ideas you might have, I'd be happy to hear them. But I think it's a take it or leave it deal."
As the House voted, Ohio Senator Sherrod Brown and Louisiana Senator David Vitter released a letter asking leadership to remove the provision. That was telling inasmuch as Vitter, a candidate for Louisiana's 2015 gubernatorial election, is the Republican senator who'll have to face voters the soonest. In a scrum with reporters, Alabama Senator Richard Shelby, a possible Banking chairman in the new Congress, gave circumspect answers when asked why the Dodd-Frank provision made the bill.
"A lot of times, Appropriations bill are the only avenue," he said. "A lot of things get bogged down and Appropriations bills sometimes gets things moving, keeps things alive."
Asked whether a must-pass bill was the right vehicle for the reform: "I think you need to look at the history of the Senate."
Asked whether the reform could pass on its own: "A lot of times, things have trouble passing for various reasons."
One of the few Democrats who's open to the provision, Delaware Senator Tom Carper, hails from a state where the banks and credit card agencies hold real sway. "I've discussed it with John Carney, our congressman, who's on Financial Services in the House, and he thinks it's a reasonable change," Carper said of the provision. "I think a former secretary of the Treasury is in favor of it. I think (former Fed chairman Ben) Bernanke is in favor of it. Those are opinions I value."
Warren had not said she would filibuster the bill if the provision stayed in. For the moment, she's only succeeded in making it infamous.