Democrats (and Republicans) Bristle at Questions About Dodd-Frank Reform Tucked into Cromnibus
Senators are suddenly being asked how the banks got what they wanted.
By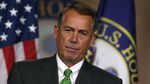 Shortly before his House of Representatives narrowly advanced the "Cromnibus," shortly before almost all Democrats opposed it, Speaker of the House John Boehner told reporters that the critics of an increasingly infamous rider were all wet. His office had already issued a statement, pointing out that a provision reversing part of Dodd-Frank had once appealed to Frank himself. It was a stretch, but it was his story.