Bharara Fenced In by Ruling Undercutting Insider Wins
Patricia Hurtado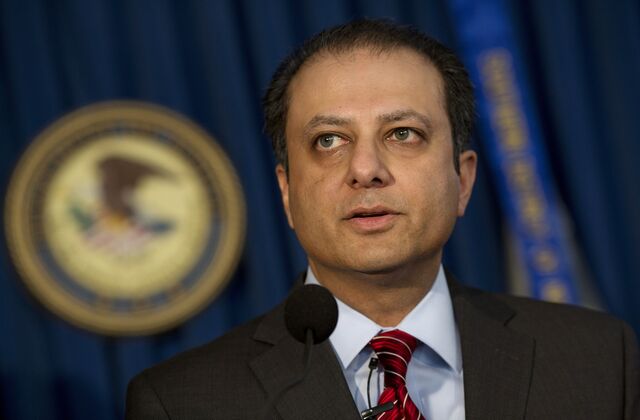 Manhattan U.S. Attorney Preet Bharara pushed the boundaries of who could be prosecuted for insider trading. Now three judges have built a fence.
Bharara, who's won more than 80 convictions in a multiyear probe, failed to preserve two in which he claimed tips on Dell Inc. and Nvidia Corp. illegally generated more than $70 million. A federal appeals panel threw out the cases, and used them to raise the bar on proof needed in future insider prosecutions.
The ruling, which exonerated Level Global Investors LP co-founder Anthony Chiasson and former Diamondback Capital Management LLC manager Todd Newman, has far-reaching consequences for those on Wall Street who feared the reach of an FBI search warrant or grand jury indictment.
"I don't know that it gives traders carte blanche to break the law, but it certainly makes it easier to get away with it," said Richard Holwell, who was the federal judge who presided over the insider-trading trial of Galleon Group co-founder Raj Rajaratnam.
Bharara said he is considering an appeal of the ruling, which is already affecting other cases. Today, a judge in a separate insider trading prosecution called a hearing to discuss the decision's implications for five defendants in his case.
'Ballyhooed Claim'
Defense lawyers see yesterday's ruling as a reaction to overreaching by an aggressive prosecutor who sought to expand the definition of insider trading.
"This opinion will also take a lot of air out of the much ballyhooed claim of U.S. Attorney for the Southern District of New York Preet Bharara that he and his assistants are cracking down on what was represented to be rampant insider trading," said Patrick Cotter, a former federal prosecutor in New York who now represents white-collar defendants. "It appears that he was, in fact, prosecuting and putting people in jail for actions that were wholly legal."
Bharara's cases included several in which the defendant was removed from the original source, with others in between. Now, in addition to showing a trader knew that a potentially market-moving tip originated from an insider obligated to keep it secret, prosecutors must prove the trader knew the source got something for his trouble.
Bharara alleged Chiasson and Newman were part of a group of portfolio managers and hedge-fund analysts who obtained secret financial data about technology companies and then traded on the information.
'Downstream Tippees'
Attorneys for the men argued their clients didn't know who the tippers were, or whether those people got a benefit for divulging the information. They also argued their clients were "downstream tippees" who were at least four steps removed from the company insiders.
The appeals court pointedly noted that the government had criminalized the actions of the money managers in the case, while never charging the insiders who tipped them.
"This case is not your classic insider trading, where you have a person tipped about a merger who trades on it," said Peter Henning, a law professor at Wayne State University and a former Securities and Exchange Commission attorney.
The "ruling makes it harder to now convict a downstream tippee, those who got it second or third hand," Henning said. "Now the government is going to have to be able to also convict the insider who passed the tip. Otherwise, don't bring a case."
Defendants Vindicated
Lawyers for Newman, Chiasson and others involved in the case called the ruling a vindication of their clients, arguing the government prosecuted the ordinary actions of money managers. Level Global Investors and Diamondback Capital Management closed in the wake of the probe.
When the appeal of Chiasson and Newman was heard in April, the courtroom was packed with lawyers whose clients had been convicted of insider trading.
Marc Powers, who represented Doug Faneuil, a broker's assistant whose testimony helped convict Martha Stewart, said many in the defense bar were troubled by the aggressive stance which prosecutors and regulators had taken as part of their insider-trading investigations.
"For the last several years, the U.S. attorney and the SEC have been pushing the boundaries of the law and the facts in insider trading cases, beyond fairness and reason," Powers said. "In the last year alone, the SEC has lost 11 insider cases or claims. The Second Circuit appears now to be setting the government straight."
Fallout
Late yesterday, the appeals court lifted a stay on the appeal of former SAC Capital Advisors LP fund manager Michael Steinberg, who was convicted of insider trading in a case with similar issues. Today, a judge presiding over a case involving illegal trading tied to International Business Machines Corp.'s $1.2 billion acquisition of SPSS Inc. ordered a hearing Dec. 18 to review the ruling's implications.
In that prosecution, in which four of five men pleaded guilty, ex-stockbroker Daryl Payton argued his case should be dismissed because he didn't know the source of the tip had breached a duty to keep it secret.
The five men got a tip from a co-worker, who in turn received the information on the merger from a friend who works as an attorney, the government alleged. The lawyer who provided the tips wasn't charged.
Unusual Step
In yesterday's decision, the appeals panel took the unusual step in its ruling of singling out the judge who presided over the trial, suggesting prosecutors were ensured a conviction.
U.S. District Judge Richard Sullivan was the only one of six federal judges in the Manhattan courthouse who didn't require the government to prove the additional element of personal benefit, according to the ruling.
Sullivan, who also presided over last year's trial of Steinberg, rejected a request by his defense lawyer to remove himself from that case because of claims he was biased against defendants.
Holwell, Sullivan's former colleague on the bench, said the law on insider trading is evolving as cases are made and challenged. Holwell, one of the judges cited by the appeals court for giving jurors correct instructions, cautioned that some people may believe the appeals court requirements go too far.
"From the market's and a trader's perspective, you want to be able to conduct your business with a minimal amount of uncertainty," Holwell said. "But the question is whether this ruling pushes back too much. Some may say this decision is too naive," he said. "I wouldn't be surprised if the government asks for further review."
Before it's here, it's on the Bloomberg Terminal.
LEARN MORE