What Do Senators Make of the Torture Report? Depends What Party They're In
John McCain aside, every Republican condemns the torture report.
By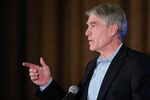 As Tuesday ended in the Senate, and as members of the upper house reached the floor for a few votes on Tennessee Valley Authority appointees, the release of a summary of the 6000-odd page CIA interrogation report was captivating the press. From the morning through the afternoon, senators had taken the floor to discuss the report, but no one's speech was discussed as widely as Arizona Senator John McCain's.