'Tis the Season For First Ladies to Wrap Presents
The eternal recurrence of an ancient ritual of political femininity.
By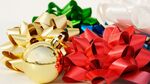 In 1983, Chirlane McCray's poem "I Used To Think" was included in Homegirls: A Black Feminist Anthology. With fire, she wrote:
If I were beautiful, I could be angry and cute

instead of an evil, pouting mammy bitch.
Then, McCray was a radical black feminist lesbian. Now, she is the first lady of New York City. Monday, she found herself greeting the Duchess of Cambridge, the queen-to-be of England, the former Kate Middleton, and joining her at a Harlem Children's Center. The women spoke with a number of neighborhood families, and then took their places at the gift-wrapping station, in the gymnasium. The duchess expressed her hope that she would only be made to wrap a square gift. The paper was precut. After she finished wrapping her gift, according to the New York Times, "the first lady handed her a red bow to complete the job."
CBS asked "who wore it better," although the women were not wearing the same thing. A "well-known royal watcher and fashionista" said that McCray "did a very good job of choosing colors that complemented her skin tone."

'Tis the season for first ladies and princesses to wrap gifts in public, no matter how inimical it may seem their personal style or professional responsibilities, and no matter how seldom first husbands (Todd Palin much?) are pressed into this service.  It's an ancient political ritual, dating from the era when no turkey ever received a pardon.
In the '80s, Nancy Reagan carried a bear named Bing around a children's hospital. Twenty years later, Laura Bush joined Girl Scouts in wrapping gifts destined for injured soldiers at Walter Reed Hospital.

Eleanor Roosevelt helped Santa out, too.

Our own FLOTUS, Michelle Obama, has proved herself to be something of a workhorse. She outshines predecessors, as she is wont to do. 

And it's not always politicians' wives. A video clip released in December 2007 opens with scissors cutting shiny Christmas gift-wrap. The gift tag "Universal Health Care" is placed under a gold bow, then "Bring Troops Home" under red. Now, "where did I put universal pre-K?" the neatly besuited woman says, from a big comfy couch. It's Hillary Clinton, who was running for the presidency. She finds it—ah!—and smiles wide. "Try my cookies," she may as well have added.