Ted Cruz Renames Obama's Foreign Policy, Butchers the Former Iranian President's
From Israel to Iran, the Texas Republican wants you to see Obama's foreign policy decisions as Hillary Clinton's problems.
By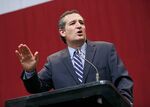 If Ted Cruz's speech Wednesday at the Heritage Foundation is an indication of Republican presidential campaign talking points, you'll soon be hearing lots more about the "Obama-Clinton foreign policy." 
The Republican senator from Texas delivered this year's "Margaret Thatcher Freedom Lecture" at the conservative think tank. The topic was: "The Power of Friendship: Embracing Allies to Revitalize American Leadership." Pretty much in keeping with his other recent foreign policy speeches, Cruz spent most of his hour-plus talk bashing Obama as weak and ineffectual, and slammed him for entering into foolish negotiations with U.S. enemies at the expense of trust from longstanding allies. In a new tack, however, Cruz also took pains to tie Obama's former secretary of state and the presumptive Democratic presidential frontrunner for 2016, Hillary Clinton, to the legacy.
"Today, the consequences of the Obama-Clinton foreign policy is that our friends no longer trust us and our enemies no longer fear us," Cruz said early in his remarks.
"In the Obama-Clinton foreign policy, all members of the international community are equal, be they nations or not," Cruz went on to say. "When it comes to radical Islamic terrorists crucifying Christians who are beheading children, what our foreign policy needs is not additional empathy. It needs clarity and force and resolve."
The administration had only "belatedly and half-heartedly" disagreed with the notion it might impose economic sanctions against Israel for settlement activity, Cruz insisted. "It's difficult to imagine a more complete and stunning indictment of the Obama-Clinton foreign policy than the notion that they might believe we should be sanctioning the nation of Israel and lifting sanctions on the nation of Iran."
Cruz insisted there's a growing consensus that "the Obama-Clinton foreign policy is disastrous and is undermining America and the world."
The speech was not without its lighter moments, however—the most amusing being when Cruz called former Iranian President Mahmoud Ahmadinejad "M-of-mow-mow'd-Ah-ma-ji-jinedad" and then laughed at his name-fumble. "Look, a Cuban Texan, there are limits to how many syllables we put in our names!" Cruz quipped.