Tax-Leaks 'Tsunami' Sees Luxembourg Push for Fiscal Law
Stephanie Bodoni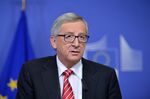 Luxembourg vowed to rein in sweetheart tax deals for multinational companies after its reputation received another blow from a new wave of leaks revealing fiscal accords.
The nation's Finance Ministry is pushing to set up oversight of so-called tax rulings next month as Prime Minister Xavier Bettel promised that Luxembourg is doing all it can to clean up its "damaged image."
The "legitimacy of certain mechanisms, which are compliant with international and national law, can be put in doubt from an ethical point of view," the finance ministry said today. "What is currently an administrative practice will be anchored in law."
A European Union state-aid probe into agreements with Amazon.com Inc. and the revelation of thousands of pages of leaked secret tax deals with companies from around the world have shaken Luxembourg, whose population of about 550,000 enjoys the highest income per capita of any EU nation. Finance Minister Pierre Gramegna last month described the leaks as a "tsunami."
The Grand-Duchy is among countries that have come under pressure amid a global push to fight tax evasion and tax fraud. Last year, it announced plans to abandon its long practice of offering bank secrecy and switch to a system of automatic exchange of tax information from Jan. 1, 2015.
Tax Rulings
A draft legal text, which still needs to be approved, would as of January regulate for the first time the practice of tax accords, according to the finance ministry.
The legislation would create a commission for tax rulings, which would have to give its advice on every request, according to the draft law. The commission would assist the tax authority in "executing and applying tax law in a uniform and fair way."
The Luxembourg law could "make it quite difficult to get rulings and slow down the entire ruling process," said Howard Liebman, a tax partner at law firm Jones Day in Brussels.
While the legislation could help Luxembourg's reputation, it may make the nation less attractive for companies that might otherwise want to locate there, Liebman said by phone.
Tax deals for companies including Walt Disney Co. were published yesterday in the latest round of revelations by a group of investigative journalists.
Disney called the report by the International Consortium of Investigative Journalists "deliberately misleading," saying its global tax rate has averaged 34 percent over the last 5 years.
28,000 Pages
An earlier round of leaks last month showed how hundreds of companies transferred profits to Luxembourg using complicated tax arrangements.
The group last month reviewed almost 28,000 pages of documents and said corporations effectively lowered their tax bill to less than 1 percent of profit.
Under the new law, rulings -- which were free of charge -- would cost between 3,000 euros ($3,700) and 10,000 euros, the finance ministry said.
Companies would be obliged to prove that "they have appropriate economic substance and are genuinely active in Luxembourg," the ministry said.
"Let's be clear: the damage to the image is here," Bettel told journalists on Dec. 5. "We can't keep up the image that this is a country where things can be done that can't be done anywhere else."
Spotlight on Juncker
The tax leaks have also cast a shadow over the first few weeks of Jean-Claude Juncker's tenure as president of the European Commission. Juncker, who was Luxembourg's prime minister for almost 19 years until late 2013, said last month that he had no involvement in the deals during his time as finance minister or premier of the nation. He took over as head of the EU's executive arm on Nov. 1.
Juncker's antitrust commissioner Margrethe Vestager has said while "tax rulings as such" are a common practice, they may be illegal if authorities "accept that a tax base of a specific company is calculated in a favorable way."
The EU authority is probing a 2003 fiscal deal Amazon got from Luxembourg, when the Seattle-based company established its European base in the country. The company has since grown to 1,000 people in the country, Amazon spokesman Drew Herdener said by phone, declining to comment further on the draft law.
The Paris-based Organization for Economic Cooperation and Development has led global efforts to uncover tax hideouts across the world.
Pascal Saint-Amans, director of the OECD's center for tax policy and administration, is scheduled to meet with Bettel and Gramegna in Luxembourg tomorrow, the government said. The trio will discuss the OECD's efforts to fight tax avoidance.
Before it's here, it's on the Bloomberg Terminal.
LEARN MORE