Scott Walker: 'Thank You, and Molotov'
Today's autocorrect gaffe-par-excellence.
By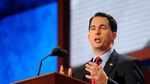 Season's greetings and salutations! Last night, the AP confirmed that Wisconsin Governor Scott Walker was meeting with Sheldon Adelson in Las Vegas, and reminded readers that Adelson had donated nearly $1 million to secure Walker's 2012 and 2014 election wins. The next morning, Madison Capital Times reporter Jessie Opoien pulled something wonderful from the archives. During the state's seemingly endless investigation of the "John Doe" scandal, it had acquired a letter from Walker telling a supporter that, yes, the governor would be happy to display a Menorah in honor of "The Eight Days of Chanukah" at a county courthouse.