Putin Has Accidental Diplomat in German Volga-Dnepr Manager
Nicholas Brautlecht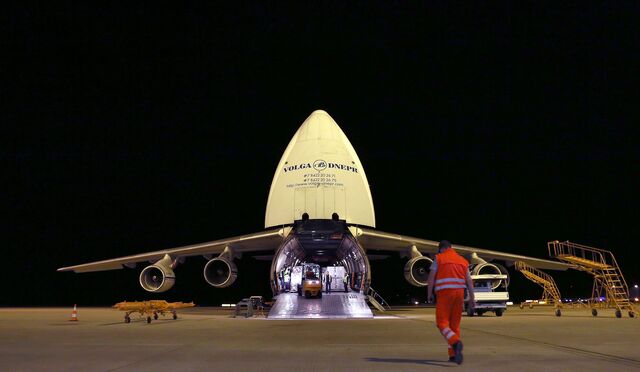 Wolfgang Meier is neither a friend of Vladimir Putin nor has he called the Russian president "a flawless democrat" like Gerhard Schroeder, the former chancellor of Germany.
Yet, as Europe becomes more entrenched in the worst confrontation with Russia since the Cold War, the German executive at Moscow-based Volga-Dnepr Group increasingly finds himself treading in Schroeder's footsteps, playing the role of a diplomat defending his company's activities amid an onslaught of international sanctions.
"Sanctions or no sanctions, times like these usually harbor good investment opportunities," Meier, 51, said in a Dec. 1 interview by phone from Moscow. "It's crucial to explain the position of our company and that, despite the sanctions, the lights in Russia haven't gone out."
Collapsing crude oil prices and economic sanctions have put the ruble on course for its biggest annual decline since Russia's 1998 domestic debt default and devaluation. Capital flight has quickened as the economy heads for recession.
Schroeder, as chairman of the OAO Gazprom-led gas pipeline venture Nord Stream AG, became the most prominent German voice to side with Russia in the conflict, when he warned on Oct. 1 that sanctions are causing "immense damage to both sides." Meier, as the board member responsible for marketing and development at the world's biggest carrier of outsized air freight, is best known in the logistics industry.
Not Alone
"I don't rub shoulders with the big cheeses," he said. "But, large or small, I see myself as a mediator and I'm not alone in that mission."
To get his message across in his native country, Meier has begun speaking at events such as the Russia Crisis conference in Hamburg on Nov. 25, attended by trade managers from large and medium-sized companies such as Kuehne & Nagel International AG, BLG Logistics Group and M&M Militzer & Muench International Holding AG.
Volga-Dnepr has been thrust into the vortex of the conflict. Even as it contends with trade sanctions, it provides the giant Russian and Ukrainian Antonov-124 aircraft used to transport heavy equipment for NATO as a partner in the Strategic Airlift Interim Solution project also known as Salis.
"This is functioning quite well," said Meier.
Leipzig Hub
Germany is one of Volga-Dnepr's most important markets alongside China and the U.S. Its scheduled service flies to Frankfurt 17 times a week, making it the second-largest mover of cargo after Deutsche Lufthansa AG's freight unit. In the first quarter of next year, the Russian company plans to add a fifth German airport to its destination network, which also includes Cologne, Leipzig and Munich.
Volga-Dnepr is also looking for a German partner to modernize its planes at its Leipzig hub. "It's not the easiest task at the moment," said Meier.
In its home country, Volga-Dnepr plans to build an intra-Russian network next year, re-routing existing international flights from cities such as Novosibirsk near the Kazakh border and Khabarovsk near China via Moscow, he said.
"Russia is rapidly expanding as a producer of goods but is lacking transport infrastructure, also with regard to links to Central Asia," Meier said. "It's crying out for investments in the future."
USSR Air Force
Meier, as a cargo-market veteran, counts Kuehne & Nagel, the world's biggest sea-freight forwarder, and Panalpina Welttransport among past employers before choosing Moscow to settle with his Russian wife and family in 2009, when he joined privately-held Volga-Dnepr.
The Russian company, founded by former USSR Air Force economist Alexey Isaikin, was the first private cargo operator to emerge during the Soviet Union's last days in 1990.
Intrigued by the company's standing as the biggest private operator of the Antonov-124 planes, Meier started off as head of the scheduled freight division AirBridgeCargo Airlines. Within five years, he more than doubled the fleet to 13 aircraft, while sales tripled to almost $1 billion.
Under Meier's leadership, AirBridgeCargo in January 2012 took the first of six U.S. built Boeing 747 freighters into service, the first ever by a Russian company. He plans to add one or two planes a year to the fleet in the coming five years.
In April, Isaikin appointed the German to the management board of the group, which targets revenue in 2014 around last year's level of $1.7 billion.
Influential Circles
Meier is not the only German with influence in Russian business circles. Matthias Warnig, a former East German Stasi agent who has known Putin personally since at least 1991, is on the supervisory boards of VTB bank, OAO Rosneft and OAO Transneft. Warnig is also managing director of Nord Stream, of which Schroeder is chairman.
Henning Voscherau, a former mayor of the city of Hamburg, is chairman of the supervisory board at South Stream, the $45 billion gas pipeline project stopped by Putin this month.
As the Ukraine conflict begins to shape his professional life, it's also creeping into Meier's home in Moscow. "We've had to give up Finnish yogurt and German butter, which is tough, but we won't starve from that," Meier said.
His wife was born in Luhansk, one of Ukraine's mainly Russian speaking regions, which has been has seen heavy fighting. "She says we Germans can't understand the inner conflict of the Ukrainians," he said.
At the breakfast table though, where a mix of Russian, German and English is common, politics get pushed aside as they focus on feeding their five children.
"Our Russian-German joint venture has been a success story," Meier said.
Before it's here, it's on the Bloomberg Terminal.
LEARN MORE