Preet Bharara's Insider-Trading Record Gets Rocked on Appeal
By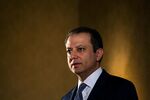 It just got much, much harder to convict someone of insider trading.
After months of stewing in anxious uncertainty for both prosecutors at the U.S. Attorney's office in Manhattan and the hedge fund executives they had convicted, the Second Circuit appeals court ruled that the government was too aggressive in its prosecution of two traders. The ruling on Wednesday overturns the insider-trading convictions of Anthony Chiasson of the fund Level Global and Todd Newman of Diamondback Capital.
The decision is a harsh rebuke to the way the government has handled its multiyear insider trading investigation, which began in 2006 and led to 80-something convictions and guilty pleas, as well as dozens of upended lives and destroyed companies. The ruling is likely to have far-reaching effects. It means that the government will have to prove more to make an insider trading case successfully in the future, and it leaves open a pathway for a handful of other convicted traders and cooperators in the government's investigation to appeal their cases. The ruling creates a road map for anyone accused of illegal trading in the future to put together a stronger defense.
For many on Wall Street, today's developments suggest that criminal prosecutors, investigators with the FBI, and even the SEC have overreached in their campaign to root out illegal trading among hedge funds. "Today's legal vindication is a reminder how prosecutorial recklessness has real impact on real people," said David Ganek, a partner of Chiasson's at Level Global, a $4 billion fund that had to close down after the FBI raided it in 2010.
The case turned on a question that seems on its surface like a technicality: whether someone who trades on a piece of material nonpublic information needs to know that the original leaker of the information shared it in return for some sort of "personal benefit" in order to be found guilty of insider trading. The definition of personal benefit is broad and could include someone's desire to ingratiate themselves with another person to count. But the judge in Chiasson and Newman's trial, Richard Sullivan, didn't tell jurors in their case that they needed to know about the benefit to find the traders guilty.
The Second Circuit has now decided that jurors have to know about the benefit. The ruling essentially means that anyone can trade on information they receive indirectly—as long as whoever passes it to them does so without getting too specific about where it came from or how they got it.
One person who was watching for today's decision closely was former SAC Capital portfolio manager Michael Steinberg. One of SAC founder Steven Cohen's most devoted longtime portfolio managers, Steinberg was convicted of insider trading last December and sentenced to three years in prison. He hasn't started serving his sentence, however, as he awaits outcome of his appeal.
"The Second Circuit's decision clearly means that Michael Steinberg is innocent of any crime and his conviction will be vacated as well," says Barry Berke, Steinberg's attorney. "It sends a loud and clear message that the government will be rebuked when it tries to turn innocent conduct into a crime, as it did in the case of Mr. Steinberg."
The other person watching, of course is Cohen himself, although he was never charged criminally with any wrongdoing. His firm, SAC Capital, pleaded guilty to securities fraud and agreed to pay $1.2 billion in fines. The SEC filed a civil case against Cohen that charged him with failing to supervise his employees, including Steinberg, and seeking to ban him from managing outside money. The SEC case is still unresolved.
With a reversal of Steinberg's conviction now looking likely, Cohen will have grounds to fight harder against the SEC, something he will have to do if he wants to rebuild his firm, now called Point72 Asset Management, into a giant hedge fund.
Before it's here, it's on the Bloomberg Terminal.
LEARN MORE