Palm Oil Shipment Tax in Malaysia Seen at Zero Next Month
Ranjeetha Pakiam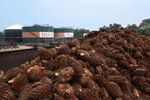 Palm oil exports from Malaysia, which waived a levy on shipments for the final four months of 2014, will probably remain duty-free in January as average prices stay below a threshold for a tax to be imposed.
The duty, which is based on a price-reference rate compiled by the palm board, will most likely continue at zero, according to CIMB Investment Bank Bhd., BNP Paribas SA and Phillip Futures Sdn. Futures on the Bursa Malaysia Derivatives averaged 2,204 ringgit ($631) a metric ton from Nov. 10 to Dec. 9, below the 2,250 ringgit level that triggers the 4.5 percent tax on sales from the world's largest exporter after Indonesia.
Malaysia removed the duty for September and October and extended the waiver for two months to try to curb the buildup of reserves and support prices of its most valuable farm-commodity export. While the move helped spur a bull market, futures still lost 19 percent this year as demand for the tropical oil used in food and biofuels fell amid a global glut and a slump in crude prices. Data today showed Malaysian reserves climbed to the highest level since February 2013.
"If the government wants to help to bring down the stocks and also try to create some kind of buying market for the consumer to import, I hope that it can maintain the tax at zero for February and March as well," Donny Khor, deputy director of futures and options at RHB Investment Bank Bhd., said by phone on Dec. 8.
The reference rate that's used to determine whether the export tax is applied is based on average contracted free-on-board prices from the Malaysian Palm Oil Board. The rate for January is set to be released on Dec. 15.
Bull Market
Futures increased 2.1 percent to 2,174 ringgit a ton on the Bursa Malaysia Derivatives today. Prices entered a bull market on Nov. 3, climbing more than 20 percent from the 1,929 ringgit close on Aug. 29. The commodity jumped 15 percent in September, rose 4 percent in October, then fell last month as crude oil prices tumbled on the global surplus.
Shipments from Indonesia are also duty-free as the government kept its tax at zero for a third month in December, the Trade Ministry said on Nov. 28. The country sets its tariff according to a formula based on average prices in Jakarta, Rotterdam and Kuala Lumpur. Crude shipments attract no tax if the average rate is $750 a ton or less over a four-week period.
Sime Darby
Any extension of Malaysia's tax exemption will help make the country's palm oil competitive against Indonesia's as well as against other edible oils, according to Franki Anthony Dass, executive vice president of the plantation division at Sime Darby Bhd., the biggest listed producer. It would help to ease Malaysian stockpiles, Dass said in a text message on Dec. 8.
Inventories in Malaysia climbed even as the country's exports were duty-free, expanding for a fifth month in November to 2.28 million tons, according to board data released at about 12:30 p.m. local time today.
Palm shipments were 15.8 million tons in the first 11 months of this year compared with 16.6 million tons in the same period of 2013, according to board data. Exports were valued at 45.3 billion ringgit last year, the data show.
Before it's here, it's on the Bloomberg Terminal.
LEARN MORE