Nobel Winner Yousafzai Urges UN to Fight for Better Education
Saleha Mohsin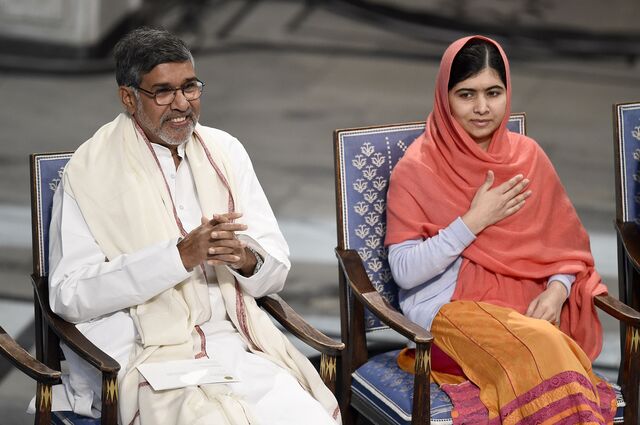 Pakistan's Malala Yousafzai, who won the Nobel Peace Prize this year with Indian children's rights activist Kailash Satyarthi, said the United Nations' goals from next year should focus on education.
"We must be determined that our dream of quality education for all will also come true," Yousafzai said today in the text of a speech delivered in Norway as she accepted the prize. Leaders gathering in 2015 to decide on the next set of sustainable development goals "must seize this opportunity to guarantee a free, quality primary and secondary education for every child."
Yousafzai, 17, was shot in the head by the Taliban in 2012 in retaliation for her campaign for girls to be given equal rights to schooling, defying threats from militants in her hometown of Mingora. She became the first teenager to win the prize, announced in Oslo in October.
She shares the prize with Satyarthi, 60, who gave up his career as an electrical engineer in 1980 to start a movement to end child labor and exploitation.
"I refuse to accept that the world is so poor, when just one week of global spending on armies is enough to bring all of our children into classrooms," Satyarthi said in a speech.
His organization has rescued more than 80,000 children from bondage, trafficking and exploitative labor, according to a biography distributed by his office.
"Today, in half of the world, we see rapid progress, modernization and development," Yousafzai said. "However, there are countries where millions still suffer from the very old problems of hunger, poverty, injustice and conflicts."
Before it's here, it's on the Bloomberg Terminal.
LEARN MORE