Medvedev Enlists Russian Companies in Bid to Halt Ruble Drop
Olga Tanas and Ilya Arkhipov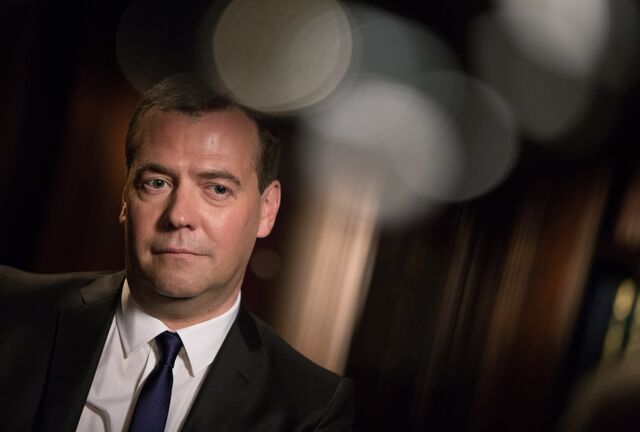 Russian Prime Minister Dmitry Medvedev said the government is urging large companies to even out their sales of foreign revenue as officials try to stem the ruble's slide to a record and the central bank weighs a second straight interest-rate increase tomorrow.
"A sizable weakening of the ruble isn't advantageous for the economy in the long term," Medvedev said in an interview with Russian television. While currency depreciation benefits the budget, it's detrimental in a "strategic sense," he said.
Medvedev's comments come after President Vladimir Putin last week called for "harsh" measures to deter currency speculators. The government is stepping up its efforts to arrest the ruble's plunge to record lows this year after a drop in oil prices to the lowest since 2009 and sanctions imposed over the conflict in Ukraine sent the currency into a tailspin.
The ruble's 40 percent slide this year has left policy makers with dwindling options after they shifted to a free-floating exchange rate ahead of schedule last month and spent about $80 billion on defending the currency. Policy makers led by Governor Elvira Nabiullina will increase their key rate for a fifth time this year at a meeting tomorrow, raising it by a percentage point, according to the median estimate of 34 economists surveyed by Bloomberg.
Record Low
The ruble declined 1.4 percent to 54.7970 per dollar at 7:14 p.m. in Moscow, taking its drop this week to 4.2 percent. The yield on 10-year government bonds fell 26 basis points after reaching a five-year high yesterday. Brent tumbled as much as 4.4 percent to $63.91 a barrel and West Texas Intermediate crude reached $60.63. The Micex Index climbed 0.8 percent to 1,486.85.
Investor expectations for rate increases in the next three months have increased since the central bank last increased borrowing costs in October, according to forward-rate agreements tracked by Bloomberg. The three-month MosPrime rate, which large Moscow banks say they charge one another, may rise 210 basis points, or 2.1 percentage points, in the next three months, the data show. That compares with 4.3 percentage points of increases seen yesterday.
Coordinated Action
The monetary authority has raised rates by 400 basis points since Putin's incursion into Crimea in March. Coordination between the government, the central bank and exporters on foreign-exchange sales is important as long as the ruble remains under pressure, Finance Minister Anton Siluanov said Dec. 4.
While devaluation has its "pluses and minuses," the ruble will regain its balance, according to Medvedev.
To counter the pressures roiling the currency market, Russia has urged exporters to convert more of their foreign revenue to help stem the ruble's tumble to record lows. That has sparked concern among investors that Putin will impose capital controls to arrest the devaluation.
Russian companies lost tens of billions of rubles on over-the-counter foreign-currency derivatives, Interfax reported, citing Sergey Moiseev, head of the financial stability department at the Bank of Russia.
While the regulator warned about higher volatility during a shift to a free float, large companies that entered into these contracts were handed losses when oil prices began falling, Moiseev said, according to the news service.
Rhythmic, Even
"What's happening is that foreign currency isn't entering the currency market in sufficient quantity," Medvedev said. "To avoid that, the government and the central bank are simply negotiating with large companies to have them conduct such sales in a more rhythmic, more even way."
The ruble is the world's worst performer this year after Ukraine's hryvnia among more than 170 global currencies tracked by Bloomberg, weakening 24 percent against the dollar since the central bank increased the key rate by 150 basis points Oct. 31.
The ruble's exchange rate is under pressure from low oil prices and sanctions imposed against Russia, according to Medvedev. The penalties are costing tens of billions of dollars both for Russia and Europe, he said. Inflation will exceed 9 percent by year-end and the economy will grow on an annual basis in 2014, Medvedev said.
The ruble's decline will contribute 2.4 percentage points to price growth this year and 3.2 percentage points in 2015, the Economy Ministry estimates. Gross domestic product may shrink 0.8 percent in 2015, according to Deputy Economy Minister Alexey Vedev.
"A whole number of companies have to repay their debt," Medvedev said. "These are large companies which need to accumulate rather long currency positions and then settle their contracts."
While the devaluation is eroding consumer purchasing power, there's no reason for a "special hysteria," Medvedev said.
"We all just need to be patient to make it through this difficult period and look to the future," he said.
Before it's here, it's on the Bloomberg Terminal.
LEARN MORE