Kotak's ING Deal Under Cloud Shows India Bank M&A Risks
Anto Antony and George Smith Alexander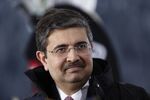 Headwinds faced by billionaire Uday Kotak after his $2.4 billion deal to buy ING Groep NV's local unit show how workers' unions may deter potential mergers and acquisitions among Indian lenders.
Less than a month after Kotak Mahindra Bank Ltd. announced its decision to purchase ING Vysya Bank Ltd. in an all-stock agreement, some employees of the latter are threatening to go on a strike if their demands for job and wage guarantees aren't met. Unions representing about 35 percent of ING Vysya's 10,591 workers are among "potential apprehensions," Morgan Stanley said in a research note dated Nov. 20.
"We will seek to stall the deal until our concerns are addressed," C.H. Venkatachalam, general secretary of the All India Bank Employees Union, said in a telephone interview yesterday in New Delhi. "Kotak Mahindra needs to guarantee the jobs and wages of all ING Vysya employees."
Such opposition by trade unions that are powerful voting blocs is depriving borrowers of cheaper credit that bigger banks would typically provide, hurting growth in the $1.9 trillion economy. Prime Minister Narendra Modi has asked for a road map for the consolidation of the 26 state-run banks as overseas lenders including Mizuho Financial Group Inc. seek acquisitions in the South Asian country.
State Lenders
"Kotak Mahindra Bank will respect and honor all employee-related contractual commitments of ING Vysya Bank" as agreed upon in the merger deal, which will be binding on all parties after approval by the RBI and other regulators, Rohit Rao, Mumbai-based spokesman at Kotak Mahindra Bank said in an e-mail. He declined to comment on potential delays.
The transaction is expected to close by April, Kotak Mahindra's Joint Managing Director Dipak Gupta told reporters in Mumbai on Nov. 20.
India's state-controlled banks accounted for about 76 percent of the nation's loans outstanding as of March 31, 2013, according to the Reserve Bank of India. The 20 private lenders, led by ICICI Bank Ltd., were responsible for more than 19 percent of bank credit, while foreign banks accounted for the rest, the data show.
The South Asian country has had 34 bank mergers in the last 45 years, according to RBI data. Of those, 26 private sector lenders, many of them struggling or on the verge of failure, were absorbed by state-controlled ones, often forced by the RBI, to prevent a financial shock. The remaining eight were mergers of private lenders.
Due Diligence
In 2009, Federal Bank Ltd. based in the southern state of Kerala, said it was undertaking a due diligence of Catholic Syrian Bank Ltd. The interest did not result in any deal.
"The deal did not happen as there were union problems," said Asutosh Kumar Mishra, a Mumbai-based banking analyst at Reliance Securities Ltd. "There could be similar issues in some of the other smaller banks. There are likely to be very few deals in banks unless it's government led."
The lack of a single dominant shareholder in smaller private sector lenders also slows down deals as there's no one to drive a transaction forward, he said.
The last acquisition was in 2010 when ICICI Bank, India's largest private-sector lender by assets, bought Bank of Rajasthan Ltd. in a deal then valued at about 24.7 billion rupees ($398 million). The Udaipur-based lender was earlier in the year fined by the RBI for violating rules on the purchase of some property, deleting electronic records and failing to provide certain documents.
The deal was completed eventually following protests by union workers, who shut down branches of Bank of Rajasthan for three days in June.
Gap Widening
"Within the private sector, the gap between the top 5 players and the rest of the industry is widening," Ravi Kapoor, the Mumbai-based head of corporate and investment banking at Citigroup Inc., the country's top adviser for mergers and acquisition, said in an e-mail. "This may drive some of the smaller players to consider a strategy revolving around merger of equals, or merge with a larger bank."
Workers at smaller private sector banks including Karnataka Bank Ltd., Karur Vysya Bank Ltd., Federal Bank Ltd., Dhanlaxmi Bank Ltd. and the state-run lenders will resist any attempts at a takeover, Venkatachalam said.
The union headed by Venkatachalam has 500,000 bank employees as members.
Larger Banks
Employees of ING Vysya will strike for one day in January in protest against the deal with Kotak Mahindra, said K.J. Ramakrishna Reddy, head of the Bengaluru-based union that represents 25 percent of ING Vysya's employees.
"The proposed transaction factors in our employees' interests adequately," the lender based in Bengaluru, formerly Bangalore, said in an e-mail. "It will be ensured that no employee will suffer a break in service, and will continue to enjoy all existing benefits. We are committed to their welfare in compliance with applicable laws and regulations."
Workers at state-run banks and some of the smaller private sector lenders with unionized labor enjoy job and wage security. They are seldom laid off, unlike at the larger private-sector banks, where employees don't belong to trade unions.
Jobs and wages at lenders with unions are governed by the so-called bipartite settlements, under which the employees' unions negotiate with the association of bank managements to decide on salary raises.
India needs larger banks to meet its growing financing needs and mergers of existing lenders would be a step toward that, billionaire Kotak said in Mumbai after announcing the merger. His net worth is about $6.7 billion, according to the Bloomberg Billionaires Index.
Cutting Holdings
Modi's cabinet yesterday decided to cut government ownership in banks to as low as 52 percent to help them bolster capital ratios to boost lending. The S&P BSE Bankex Index, which tracks the shares of 12 lenders, gained 62 percent this year, beating the 30 percent advance in the benchmark Sensex, on prospects for a sustained pick-up in loan growth.
The government has appointed SBI Capital Markets Ltd. to prepare a way for the consolidation of India's state-run banks, Gurdial Singh Sandhu, then banking secretary at India's finance ministry, said in October.
State Bank of India, the country's largest lender by assets, soon will decide on merging five subsidiaries within itself, Chairman Arundhati Bhattacharya said in November.
"Consolidation in India's banking system will help bring down cost of credit and services to customers," said Vishal Narnolia, Mumbai-based banking analyst at SMC Global Securities Ltd. "It will also help increase bank penetration and help the economy."
Before it's here, it's on the Bloomberg Terminal.
LEARN MORE