Is the Bar Exam Broken? Or Are Law Students Dumber?
When so many people flunk the bar exam, who should take the blame?
By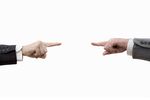 Law schools and the creators of the bar exam agree: This year's plunge in test scores across several states is alarming -- and it's probably the other side's fault.