Iowa Conservatives Scoff at Plans to Narrow the 2016 Primary Field
Rick Santorum's 2012 Iowa win on a shoe-string budget makes their case, they say.
By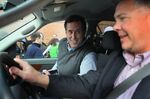 Conservative Republicans in Iowa have a warning for wealthy party fundraisers who might like to use their clout to slim down the 2016 presidential primary field: It won't work. Money matters, but it doesn't take much of it to be competitive in Iowa, where the nominating race begins.
Take Rick Santorum in 2012. As his rivals crisscrossed the state in fancy campaign buses and spent millions on television advertising, he trudged along in a pickup truck driven by a lone supporter. He nonetheless won the Iowa caucuses, propelling a surprisingly strong challenge to the party's eventual nominee, Mitt Romney.
That's why social conservatives in Iowa are skeptical about the goal outlined Monday in a New York Times story about top business donors trying to settle on a single "establishment" candidate.  The thinking is that a consensus candidate–Chris Christie, Jeb Bush, or Romney–could more easily beat the party's other candidates and avoid a divisive and damaging primary.
"I think it is best to respect the wishes of voters and let them figure that out," said Steve Scheffler, a prominent social conservative who represents Iowa on the Republican National Committee. "That's for the voters to decide in Iowa, New Hampshire, South Carolina, Nevada and elsewhere."
Past efforts on the part of Wall Street donors to "go behind closed doors" to "arrange the furniture so that they can pick the nominee" haven't been successful, Scheffler said. He pointed to Romney in 2012 and Senator John McCain in 2008, who conservatives routinely argue were not conservative enough to distinguish themselves from the Democrats they ran against in their general elections. "That didn't get us very far," he said. 
Santorum, a former Pennsylvania senator who is contemplating a second presidential bid in 2016, echoed that sentiment in a statement provided to Bloomberg Politics.
"After holding over 375 town hall meetings and traveling to all of Iowa's 99 counties last cycle, I learned first hand that the only way to be successful in Iowa is to earn votes one Iowa family at a time," he said. "Iowa Republicans want to meet the candidates, kick the tires, and really get to know the person they are voting for face to face. My victory in the 2012 Iowa caucus, as well as winning 11 primaries and caucuses despite being dramatically outspent, should be a clear indication that big ideas are every bit as important as big checks."
Social conservatives already are planning events in Iowa to try and maximize their influence in the nominating contest. The Iowa Faith & Freedom Coalition announced Monday that it will hold a presidential candidate forum on April 18 at a church in suburban Des Moines. Another event on Jan. 24, called the Iowa Freedom Summit, will draw a Republican cast that's expected to include conservative stalwarts such as Santorum, Ted Cruz, Mike Huckabee, Mike Lee and Sarah Palin.
The Associated Press reported Tuesday that Christie also plans to attend because he was invited by co-host Steve King, a conservative congressman from northwest Iowa. The appearance by Christie, who is viewed with skepticism by social conservatives because of some of his actions in his home state, suggests the New Jersey governor is gearing up to compete in Iowa and potentially try to make peace with those conservatives. 
"It's our end goal, too, to coalesce around a candidate who can beat Hillary Clinton," said Bob Vander Plaats, president of the Family Leader, a coalition that seeks "Christ-like leadership" and also opposes abortion rights and gay marriage. "But I don't think we want to jump out of that train too early. I think primaries can be good to a certain extent. Look at Barack Obama." In 2008, Obama battled state by state against Clinton until June, when he'd won enough delegates to secure the nomination. 
"Everyone is leery of 'let's get the establishment candidate who stands for nothing,'" said Vander Plaats, a one-time candidate for Iowa governor who endorsed Santorum shortly before the last caucuses. "We don't have a president McCain or Romney."
Iowa Republicans have fresh evidence the fact that primaries can make candidates stronger and better competitors in general elections, Vander Plaats said. Senator-elect Joni Ernst had four Republican primary rivals and beat by 8.5 percentage points Democratic Representative Bruce Braley, who didn't have a primary. 
There's also been talk among Iowa social conservatives that they need to coalesce quickly around one of their own, so that their strength is not diluted in what's looking like a crowded field. Scheffler said said that's likely equally unrealistic as what establishment fundraisers are contemplating.
"That may sound like a wonderful idea to conservatives, in theory, but I don't see how you make that happen," he said. "They are going to run regardless of what the leaders of the social conservative movement say."