Iowa Conservatives Scoff at Plans to Narrow the 2016 Primary Field
Rick Santorum's 2012 Iowa win on a shoe-string budget makes their case, they say.
By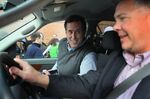 Conservative Republicans in Iowa have a warning for wealthy party fundraisers who might like to use their clout to slim down the 2016 presidential primary field: It won't work. Money matters, but it doesn't take much of it to be competitive in Iowa, where the nominating race begins.