In the Cromnibus, a Harsh Toke for D.C. Legal Weed?
The GOP tried to crush the will of a majority of Washington residents—but in the fine print are high hopes.
By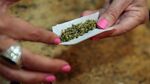 He was the star of the Heritage Foundation's anti-marijuana panel, but Maryland Representative Andy Harris had a devil of a time getting heard. On Tuesday morning, as Harris explained the scientific case against legal weed, District of Columbia activists kept leaping from their chairs and heckling him.