How Iraqi Oil Serves Erdogan on Turkey's Current Account
Selcan Hacaoglu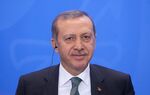 An Iraqi oil deal that may aid the nation's battle against Islamic State is also set to give Turkey's current account balance a boost by ensuring the global oversupply of crude continues.
A more than 40 percent drop in the price of crude since its June peak is helping shrink Turkey's shortfall in the current account -- the broadest measure of trade in goods and services - - as it has fueled a rally in the nation's bonds. The gap narrowed to $2.03 billion in October from $3.3 billion year on year, according to the central bank today. The median estimate for the shortfall in October was $1.8 billion in a Bloomberg survey of economists before today's report.
The accord last week between the Iraqi government and the semi-autonomous Kurdistan Regional Government will see crude exports through Turkey jump more than 80 percent next year to 550,000 barrel a day, exerting deeper pressure on global prices. As the nation imports more than 90 percent of its oil, the slump is a boon to President Recep Tayyip Erdogan before parliamentary elections in June. The agreement will also ease Iraq's financial crisis as it fights Islamic State.
"The deal will help cut Turkey's energy costs and spur an increase in financial inflows," Inanc Sozer, chief economist at Odeabank AS, said by e-mail from Istanbul yesterday. "The drop in oil prices should help drive yields on two-year notes" still lower, he said.
Oil Boost
The yield on Turkey's 10-year government bonds fell 173 basis points since Sept. 30 to 8.22 percent yesterday, the most among 25 emerging market bonds, according to data compiled by Bloomberg. Turkey's two-year notes fell 200 basis points to 7.98 percent yesterday since Sept. 30, the most among 22 emerging market bonds, according to data compiled by Bloomberg.
The oil-sharing agreement in Iraq follows a Nov. 27 decision by OPEC to maintain its 30-million-barrel a day ceiling, in place since 2012, even after the steepest slump in prices since the global recession. Brent crude, the international benchmark, has tumbled 43 percent since June 19. The price dropped to $65.29 on Dec. 9, the lowest since September 2009.
Turkey's current account deficit widened to 7.9 percent of gross domestic product last year. With falling oil prices, the gap will probably be about 5.7 percent of GDP by the end of the year, according to government estimates. That's still would be the largest among 24 emerging markets, according to International Monetary Fund estimates. Turkey's imports around 70 percent of its total energy needs, government data shows.
Foreign Dependence
"The primary cause of our country's foreign trade imbalance is our dependence on oil and natural gas from abroad," Erdogan said in televised remarks in Istanbul on Dec. 6.
The decline in oil prices provides a temporary relief for Turkey. Deputy Prime Minister Ali Babacan said that for each $10 decline in the oil price the current account deficit would narrow by half of a percentage point of GDP.
"We are saving $4.4 billion on the current-account thanks to this," Babacan said in New York on Dec. 4, according to state-run Anadolu Agency. The lira strengthened 0.1 percent to 2.2642 per dollar at 5:56 p.m. yesterday. The lira, up 6 percent against the dollar since the peak oil price on June 19, is the best performer in Europe, Middle East and Africa.
Turkey "definitely" emerges as the winner from the deal between the Kurdistan Regional Government and Baghdad, Natixis Lead Oil Markets Analyst Abhishek Deshpande said in an e-mail.
"Lower oil prices could help to a certain extent to reduce the burden on Turkey's current-account deficit," Deshpande said.
Before it's here, it's on the Bloomberg Terminal.
LEARN MORE