Is This the End of Hong Kong's Umbrella Movement?
By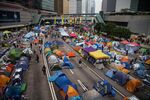 Hong Kong students like Maggie Chan may have just one more night for their pro-democracy protest. Since the student-led occupation of city streets started in late September, the 18-year-old Chan has been camping out with others who have pitched their tents near the government's headquarters in the Admiralty district. As days on the street turned into weeks and then months, the Umbrella Movement lost supporters. But Chan says she's been loyal, sleeping in the streets almost every night. "For maybe three days I had to go home," she says, "because I was sick."
Now that police have promised to clear the area on Thursday morning, she may be going home for good. Hong Kong's students have withstood opposition from the city government, the local business community, and the Communist Party of China. Turns out they may be no match, however, for a humble bus company. Because the student-led occupation has prevented All China Express's Hong Kong-to-Shenzhen coaches from traveling their usual routes, a court has given the green light to the city's enforcers of public safety to clear away the occupation.
So will Hong Kong's democracy campaign end with a whimper? Until now the protests have been largely peaceful, complete with yellow ribbons, street art, and hunger strikes. There were some violent clashes when police successfully cleared one of the smaller occupation areas last month. Students countered by trying to surround government headquarters, leading to more clashes. Many of the tents and artwork in Admiralty are gone, as protesters have gathered their things in advance of the police.
Still, on the streets of Admiralty some protesters insist they're staying put. "I'm going to be here," says Louis Tong, a 20-year-old studying business and financial analysis at Hang Seng Management College. He's wearing a black "I Love HK" T-shirt, with a yellow umbrella in place of the usual red heart. Nearby, Leo Chan, a 30-year-old office worker who's taken time off from his job, is strumming on his guitar, playing Do You Hear the People Sing, the Les Misérables song that has become one of the anthems of the Umbrella Movement.
"I will stand," says Tong. "Maybe I won't fight, but I will not leave until they push me."
Many of the protesters expect violence. On Thursday morning, Maggie Chan and her friend Julia Chan (they're unrelated—Chan is a common name in Hong Kong) will help distribute face masks, goggles, and other protective gear to them. The goal is to help "people who want to fight with the police," says Julia, who says she's angry and disappointed with the government's stand.
For Maggie the word is "hopeless." "We did all these things, but we couldn't change the government's mind," she says. "We just wanted the government to have a conversation with the people. But no."
The police say they're prepared. Assistant Police Commissioner Cheung Tak-keung told reporters on Wednesday that officers "may effect arrest against anyone who attempts to obstruct police in execution of duty."
For a massive civil disobedience movement that's gone on for two and a half months, there have been remarkably few arrests, but that could change on Thursday. The Hong Kong Federation of Students has advice. The student website has a handy list: "5 Things You Should Remember When You Are Arrested." The pointers: Don't chat with the police. Wait for your lawyer before signing anything. Remember, you have the right to remain silent. Make sure to check what the police put in their statement. It's a good idea to get a copy, too.
If police do clear the site, protesters insist the fight won't be over. In Admiralty, amid the usual signs calling for true universal suffrage and Leung Chun-ying's resignation, some new banners fly, vowing "We Will Be Back."
Leo Chan, the guitar player, agrees. "I will be back," he says. "Everyone will be back."
Tong, the business student, doesn't rule out a return, either. For now, though, he will focus on protesting, although with the end of the school semester approaching, he will try not to get arrested. "I need to take exams," he says.
Before it's here, it's on the Bloomberg Terminal.
LEARN MORE