Five Best Men's Gloves, Hands Down
By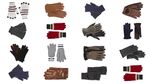 There's an innate level of attachment one gets to their fashionable belongings when they're in the business of covering luxury things. I know this because I once cried over a Belstaff moto-leather jacket. I accidentally put it on top of a candle on my mom's vanity one Christmas, and it burnt straight through both sides, like a bullet hole. I was devastated, my holiday spirit ruined. Now that's a rightfully traumatic example (I mean, that jacket lasted longer than some of my more formal relationships), but I've also been known to throw a temper tantrum at the realization that I left my Tom Ford sunglasses in a livery cab on my way home from a bad first date. (Okay, it might have been the date.)
But maybe you've been there, too, being an appreciator of nice things (and human). Maybe you've experienced that special heartbreak reserved only for the moment you realize some irresponsible or absent-minded move on your part sent one of your beloved items to the afterlife -- or at least the Lost and Found.
This brings me to what I call, "The List," the four things you are destined to purchase and replace on repeat for life, thus never granting the affection you bestow upon say, a $2,500 leather jacket.
Umbrellas. What's that famous quote? The only things certain in life are death and taxes, and losing your umbrella? Something like that.

Socks. Yes, your Whirlpool dryer is the home appliance equivalent of the Bermuda Triangle.

Sunglasses. They say the more you spend on them, the less likely you are to forget them in the changing room at Zara. I no longer subscribe to this psychology, but that's what they say.

Gloves.

Ah, gloves. You might as well stock up and request a pair (or two) now for the holidays, because we all know that by April, as if a tradition, we will all be the owner of multiple half pairs.
So below a buying (or gift?) guide to gloves arranged by trend, from classic tweed hybrids to sporty and functional pairs with smartphone-friendly fingertips. And hey, it's okay to love 'em -- just don't get too attached.
Brown Drivers

Get a snug, buttery-soft leather pair -- like the above (middle) by Coach ($148). British leather-specialists like Mulberry (far left, $330) and Dents (far right, $90) also make supple and masculine options I endorse. Now all you'll need is a sports car, perhaps a vintage Jaguar E-Type.
Fingerless Cashmere


This is a first: me suggesting something with roots in a John Hughes film. But unlike John Bender's cotton and mesh pair seen in "The Breakfast Club," opt for a more savvy and polished cashmere pair, like these pop-top grey ones (middle) by Bloomingdale's ($78). Rag and Bone (far left, $125) and Paul Smith (far right, $135) also make pretty killer, simpler options.
Tweed and Leather

A mash-up of two of the best winter-specific menswear fabrics, both add great texture and warmth. If looking for something that is also touchscreen-friendly (aren't we all?), check out this pair by J.Crew (far left, $98) for a dressier, yet still tech-conscience option. Or this handsome Harris Tweed houndstooth option by Suitsupply (far right, $119), and the Brompton tweed glove by UGG Australia (middle, $95).
Sporty Knit

Give your preppy repp ties a breather and bring your sporty game to your fingertips instead with colorful, rugby stripe knit gloves by Brooks Brothers (far left, $48) or a cable knit pair by Italian ski-purveyors Moncler (middle, $215). For more finger functionality, this cozy Etre Fivepoint pair is available at Bonobos (far right, $59).
Navy and Brown Colorblock

Yes, you can wear brown with blue. They go together rather nicely, actually. Plus, they are a subtle way to try out the colorblock trend. The pair on the right by Barneys New York ($295) have a suede upper and smooth nappa leather palm, another great combination. Or try all sheepskin by Paul Smith (far left, $325).
Before it's here, it's on the Bloomberg Terminal.
LEARN MORE