Detroit's Record $18 Billion Bankruptcy Will End Tonight
Chris Christoff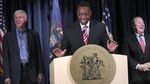 Detroit will end tonight its record municipal bankruptcy, a tumultuous episode that gave worldwide exposure to its crime, blight and crushing $18 billion of debt.
"The big news is how people can work together for the success of Detroit," Michigan Governor Rick Snyder said at a news conference in the city with Emergency Manager Kevyn Orr and Mayor Mike Duggan. "Detroit is a much better place than it was 18 months ago."
Snyder, a 56-year-old Republican, named Orr emergency manager in March 2013 under a law that gave him sweeping authority over Detroit's finances and government. The city last month won a judge's initial approval of a debt-cutting plan to allow the former auto-manufacturing giant to refashion itself after decades of population decline and decay.
The city's bankruptcy lawyers filed a notice in federal court saying its debt-cutting plan went into effect today, officially extinguishing about $7 billion of unsecured debt by imposing reductions on pensioners and other creditors.
"At 12:01 a.m. tomorrow morning, the city will be out of bankruptcy," Orr said. "I will no longer be emergency manager."
Orr's Ending
The Washington bankruptcy lawyer from the Jones Day firm submitted his letter of resignation yesterday. Orr's appointment had been decried by some as an assault on democracy as he assumed virtually all power of elected officials.
"I feel very fortunate to have had the opportunity and very fortunate for the outcome," he said. "I've grown a great deal of fondness for the city."
Orr said he will "decompress" before deciding what to pursue next. Last week, he said he plans to return to private business.
As a demonstration of the city's fresh start, Snyder presented Duggan with a check for $1.2 million, a rebate from the state for the city's use of a former prison as a lockup. Duggan said the money was a windfall and that he would consult with the City Council about how to spend it.
The city will remain under the watch of a state review commission that will monitor its finances and contracts.
"My goal is to have them as least active as possible," Snyder said.
Buffing Detroit
Duggan, who for months has managed services with Orr's permission, said improvements have already begun, with better trash pickups, more police and firefighters, blight removal and replacement of broken street lights. The bankruptcy settlement plan calls for the city to spend $1.7 billion over 10 years on revitalization.
Snyder said in an interview after the news conference that he will now focus on Detroit schools, which are under control of a separate emergency manager who will leave in January. He said he'll seek a comprehensive effort to improve education in the first half of next year. Snyder questioned the wisdom of returning control to elected officials.
"There aren't a whole lot of people who are excited by that concept," Snyder said. "People don't have a lot of confidence in the current school board."
Duggan said at the press conference that he has no interest in assuming control of Detroit schools.
(A previous version of this story gave an incorrect figure in the headline.)
Before it's here, it's on the Bloomberg Terminal.
LEARN MORE