Denmark Targets Credit Contraction as Loan Demand Stalls
Peter Levring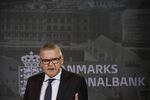 Denmark's central bank is urging lenders to refrain from easing credit standards and says the financial industry still needs to undergo a contraction.
"One of the ways to achieve a sensible development is to remove the overcapacity there is in the banking sector," Lars Rohde, governor of the central bank, said yesterday in an interview in Copenhagen. "There's a capacity adjustment underway, but it's probably not finished yet."
Denmark's bank industry has combined assets that are about four times the size of the $310 billion economy. Danske Bank A/S alone has a balance sheet that is more than 180 percent of the nation's gross domestic product. Since Denmark's housing bubble burst in 2008, about 60 community lenders have been either wiped out or bought up. That number needs to rise, according to Rohde.
"If we're doing anything, then it's to support the capacity adjustment that's taking place," he said.
Lending is stalling as growth in Scandinavia's weakest economy fails to return to pre-crisis levels. Gross domestic product will grow just 0.8 percent this year, the central bank estimates. That's less than the average in the European Union, where the European Commission estimates growth will reach 1.3 percent.
Bank lending in Denmark is at its lowest since 2007 after falling to 1.16 trillion kroner ($195 billion) in September, according to the central bank's financial stability report released yesterday. Lending at Danske Bank contracted by 1.2 percent through June, the report showed.
Easing Tendency
The central bank's latest lending survey revealed "a tendency" among banks toward easing credit conditions, especially for businesses, the report said. Lenders named intensifying competition as the main reason.
Interest rates on loans are falling amid the hunt for customers. Rates on business loans have remained below 4 percent since January, the longest stretch under that level in more than a decade, central bank data show. Loans to households declined to 5.23 percent in September, the lowest since 2011, data show.
A lack of demand for credit is "what is to be expected in the current economic cycle," Rohde said. "There's a not insignificant overcapacity in the financial sector and that of course means that banks will be very eager to chase the business that's out there."
The danger is that credit standards will slip, he said. Demand for loans will eventually return but it may be some time as "companies and individuals have combined savings equal to 10 percent of gross domestic product," Rohde said.
"It may take a long time, even after investments pick up, before they need to borrow a krone," he said.
Before it's here, it's on the Bloomberg Terminal.
LEARN MORE