Carney Urged to Emulate Fed With Unlocked BOE Debates
Scott Hamilton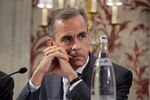 Mark Carney may reveal tomorrow if he's willing to turn the key on discussions the Bank of England keeps behind closed doors.
Nine months after U.K. lawmakers expressed incredulity that the central bank destroys recordings of Monetary Policy Committee meetings, the governor will publish a review into the practice. The BOE currently releases edited minutes showing how policy makers voted with a condensed account of their discussions, and none of the full transcripts produced years later by the U.S. Federal Reserve and the Bank of Japan.
A change in policy would mark another step in Carney's ongoing revolution at the central bank, and might also be an opportunity to unveil any possible wider revamp of its decision-making machinery before the start of a rate-tightening cycle. BOE officials face political pressure for more transparency even if they have reservations on how publication of their debates might impact what they say.
"It changes the structure of the discussion and the debate very considerably," Charles Goodhart, a founding member of the MPC and currently a professor at the London School of Economics, said in an interview. "The current set up works very well and I think it's dangerous to change a well-organized and a well-structured set of arrangements."
The BOE review was led by former Fed official Kevin Warsh, who was asked in April to examine the benefits of transcripts and the time lag before publication. The Fed publishes transcripts five years after monetary policy meetings.
Destruction Policy
Carney also asked Warsh to look at alternative ways of improving transparency, suggesting his review might prompt a wider look at MPC communications such as decision statements and minutes. The BOE doesn't usually issue a commentary alongside monetary policy decisions, with the last one in July 2013, Carney's first MPC meeting as governor.
Warsh will present his conclusions and Carney will outline the BOE's response at a press conference at 10:00 a.m. in London tomorrow. A BOE spokesman declined to comment on the review before publication.
The BOE appointed Warsh after lawmakers criticized Carney and other policy makers during testimony in March. When officials revealed that MPC meetings are recorded for the use of note-takers and then destroyed, Treasury Committee Chairman Andrew Tyrie questioned the practice. He noted that institutions from the Fed to the U.K. Parliament keep transcripts, and said the BOE should take account of the "historical value" of such documents.
Powerful Committee
"Unless there's a very good reason not to, the default must always be to provide transcripts with a reasonable amount of time," said David Blanchflower, a former MPC member based in the U.S. "These are unelected officials with a lot of power who have to expose themselves to the public."
Officials have tended to support the status quo. Former BOE Deputy Governor for Monetary Policy Charlie Bean said in May before his retirement the next month that he was "not a huge enthusiast for transcripts." He argued that it may lower the quality of the debate because people end up producing prepared statements that don't stoke discussion.
Current policy maker Kristin Forbes, a former White House official, said that "such a result could undermine the effectiveness of the MPC."
For David Green, a former BOE official who is now a consultant to central banks, the main thing is that minutes are properly drafted, making transcripts unnecessary.
"When you're deciding policy, you want to feel free to misspeak, take a few attempts at formulating what you want to say, and a transcript could give a wrong impression," he said. "Provided the minutes of the meeting are properly constructed and approved, a transcript wouldn't really be needed."
Before it's here, it's on the Bloomberg Terminal.
LEARN MORE