Wall Street Decathlon Raises Team Event Bar as JP Morgan Defends
Erik Matuszewski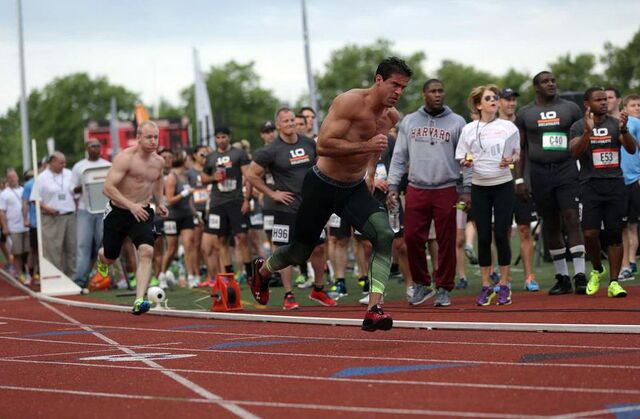 JP Morgan Chase won the Wall Street Decathlon's team competition last year with a trio that had a perfect balance of speed, strength and agility. They might have to add a fundraising specialist to successfully defend their title.
The charity event, which opens registration today on its website, has revamped its team competition so the amount of money raised for Memorial Sloan-Kettering Cancer Center in New York will now account for a third of the overall score.
The change is one in a series organizers have made to the team format and makes fundraising almost as essential as the 10 events held on and inside the track at St. John's University on June 13. Since it was founded in 2009 to crown the best all-around athletes on Wall Street, the decathlon has raised more than $5 million for cancer research.
"We hope it will bring even more competition," said Jonathan Mason, 24, an ex-Harvard defensive back and equity sales trader at JP Morgan for the past two years. "We're excited to get back out there, work hard and raise some money."
The decathlon team event now has its own day -- one day before the individual competition on June 14 -- and because of demand from the participant and donor bases, only the team captain is required to work in financial services. The field will be limited to 100 teams.
Paul Bjorneby of UBS Securities LLC said he's looking forward to the opportunity to team with some friends or clients from outside Wall Street. The head of natural resources in equity capital markets at UBS, Bjorneby, 40, participated in the individual part of the competition last year.
Friends, Clients
"I have a number of good friends who have watched the event grow over the years and expressed interest in competing as well as raising money, but they don't work in financial services," Bjorneby said. "Until this year they haven't been able to participate. I also think the team competition will bring some of our clients into the mix, which is fantastic and a great way to help build those relationships."
Teams can include two to four competitors -- male or female -- and captains can invite colleagues, clients, vendors, partners or friends.
In another change, competitors can choose to participate in any of the 10 events, with only the top two scores per team recorded. There are three running events, at distances of 40 yards, 400 meters and 800 meters. Other events include pull-ups, a football throw, an agility drill, a 500-meter stationary row, vertical jump, bench press and dips -- a triceps exercise where competitors lift their own body weight.
Along with Mason, last year's winning team from JP Morgan included Jason Price, who was an All-American sprinter at the University of Southern California, and Phil Alexander, who had a brief NFL stint after playing linebacker at Duke University.
'Competitive Fire'
The team a year ago had a "preliminary day" to determine each member's strengths and then divvied up the events while raising $11,000 in donations. Price, 26, specialized in the sprints, Alexander, 31, focused on the strength events and Mason's strength was agility. They haven't yet determined who their fourth member for this year's team will be.
"With the contributions we were able to make last year, the firm will be behind us and whoever the fourth member is will be able to contribute a great deal because of the profile of the event," said Price, who two years ago triggered a $100,000 donation by running the 400 meters in an event-record 51.08 seconds. "The dedicated day for the team event means more of the competitive fire to further the donation dollars."
Added motivation to defend the title came from a visit the JP Morgan team made to Memorial Sloan-Kettering Cancer Center following last year's event.
Difference Makers
"We got to see how what we're doing is making a difference," said Mason, who lost an uncle to cancer. "We've seen where it's going and we've seen the people we're helping."
The individual competition, in which former Penn State safety Mark Rubin of Barclays Plc will be seeking a fourth straight title, will be capped at 150 participants, each of whom has to raise at least $3,000 in charitable donations. The individual event is scheduled for June 14 at St. John's DaSilva Memorial Field in the Queens borough of New York City.
In addition to prizes for the top three overall finishers, there's an individual women's champion and awards for the top executives and in several age groups.
Mark Spina, a managing director at Voya Investment Management, has participated in the decathlon for five years and in 2012 was the top finisher in the over-40 group. He's planning to compete in all 10 events again this year, though he'll switch over to the team competition.
"The level of competition ranges from elite athletes to weekend warriors," said the 44-year-old Spina, who stays in shape throughout the year with CrossFit workouts and by playing in men's soccer and basketball leagues. "A group of us in the over-40 category have a great time each year, pulling for each other to succeed and just keep competing."
Before it's here, it's on the Bloomberg Terminal.
LEARN MORE