VW Hires BMW Development Chief Diess to Run Main Car Unit
Christoph Rauwald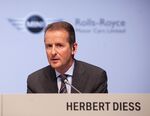 Volkswagen AG hired BMW's development chief Herbert Diess to take the reins at the its largest division, making him a candidate to eventually succeed Martin Winterkorn as chief executive officer.
Diess, 56, will take charge of the VW car brand, assuming that responsibility from Winterkorn on Oct. 1, the Wolfsburg, Germany-based automaker said today in a statement.
"This is big and good news for VW," said Arndt Ellinghorst, an analyst with Evercore ISI. "Diess is very well respected and well known for his direct and straight management style."
Winterkorn, 67, has gradually been preparing the company, the world's second-largest carmaker, for a change in leadership by shoring up management ranks. Diess is the second manager that Volkswagen has lured from a German rival within a year. VW hired Andreas Renschler away from Daimler AG to become its truck-division chief. He starts in February.
Diess, who joined Munich-based BMW in 1996 from auto-parts supplier Robert Bosch GmbH, took over as development chief in April 2012 after previously overseeing purchasing. In that role, he was responsible for reducing spending on components and supplies by at least 4 billion euros ($4.9 billion), helping the luxury-car manufacturer weather the global recession.
"With Herbert Diess, we will be welcoming an outstanding personality and one of the most capable minds in the automotive industry to our company," Winterkorn said in today's statement. "This step puts the executive management of both the group and the brand on an even broader footing."
Before it's here, it's on the Bloomberg Terminal.
LEARN MORE