Should Bond Investors Be Afraid of Sinn Fein? Maybe Not
Dara Doyle and Donal Griffin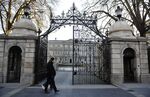 The year is 2017. Ireland's economy is in tatters again as investors flee the bondholder-burning, tax-and-spend policies of a government led by Sinn Fein.
At least that's how the Irish government is portraying what would happen should the party remain ahead in opinion polls and get into power. Tomorrow, a third national demonstration will take place against water charges, with Sinn Fein helping organize a mass rally at the gates of parliament in Dublin.
The prospect of an Irish political shock may start filtering into financial markets in the run-up to elections scheduled for 2016. At the same time, the experience of the regional assembly in Northern Ireland shows a Sinn Fein in government looks different to the anti-austerity, anti-banker party of protest vacuuming up support in the south.
"We can expect some nervousness among investors as we get closer to the election," said Eoin Fahy, chief economist at Kleinwort Benson Investors in Dublin. Others "may take the view that Sinn Fein in government would have an altogether more pragmatic approach," he said.
Since Ireland exited an international bailout program a year ago, bond yields have dropped to new records. The yield on 10-year securities fell to 1.32 percent today, down from a peak of 14.2 percent in July 2011.
Poll Surge
Support for Sinn Fein has increased as more people say the economic recovery is just a mirage.
Drawing support from 22 percent of voters, it's the most popular party, according to a poll of 1,200 people published by the Irish Times on Dec. 4 and taken on Dec. 1-2. The margin of error was plus or minus 2.8 percent.
Neither party leader Gerry Adams nor others in the Sinn Fein leadership responded to requests for an interview.
Prime Minister Enda Kenny last month started sketching out terms of engagement for the next election, asking voters whether they wanted to risk the progress of the last three years as the country's borrowing costs fall to a record.
"People need to reflect on that very carefully," Kenny said on Nov. 28. "Do they want responsibility and growth and prosperity and jobs in government? Or do they want a government put together that has the potential to absolutely wreck every economic advance that we've made?"
IRA History
Yet for a party that was the political wing of the Irish Republican Army, the reality of Sinn Fein with any political power looks rather different.
In Northern Ireland, where it's part of a coalition overseeing some policies in the U.K. province, the party has been pushing to cut the tax rate for companies to be more in line with Ireland's 12.5 percent levy.
That came closer to fruition last week as Chancellor of the Exchequer George Osborne said he may transfer control over the levy to the Belfast assembly.
"When you look at what Sinn Fein have done, it's not that radical economics of a past republican era," said Peter Shirlow, a politics professor at Queen's University Belfast. "It's been about bringing in foreign capital, developing skills and the labor market."
The main role of Northern Ireland's government is to decide how money should be spent, with most tax-setting powers remaining with the U.K. Parliament in London.
Shopping Bags
Since 2011, the administration has introduced legislation ranging from a shopping-bag levy to the prevention of overbearing garden hedges and regulating cafes that wish to have tables and chairs on sidewalks. It passed the Business Improvement Districts Act, which seeks to "bring about an improved business environment and improved economic growth."
"The rhetoric might be left-wing, but it hasn't manifested itself in anti-business taxes," said Neil Gibson, director of the Northern Ireland Centre for Economic Policy at the University of Ulster. Regional assemblies, though, "are a different beast. You don't control public finances," he said.
Across the border in Ireland, Sinn Fein has consistently opposed the tax increases and spending cuts the government used to narrow the budget deficit to about 3.7 percent of gross domestic product from 13 percent in 2011.
Sinn Fein also has attacked Kenny for not imposing losses on senior bank bondholders, which might have cut the 64 billion-euro ($78.6 billion) cost of bailing out the financial system after Ireland's financial collapse.
Political Risk
"One of the biggest downside risks to our otherwise bullish view on the Irish sovereign is politics," Fiona Hayes, an analyst at Cantor Fitzgerald LP in Dublin, a primary dealer in Irish government debt, said in a report yesterday. "A Sinn Fein/independent government might not only be inherently unstable, but it would propose policies not conducive to growth and investment."
There are signs Sinn Fein would become more moderate should it get to wield greater power.
As it presses for a tax cut in Northern Ireland, it dropped plans to raise the Irish corporate rate, which helped attracted companies ranging from Google Inc. and Facebook Inc. to locate their European headquarters in Dublin.
The question is whether the party continues to do well in the polls as Ireland's economic recovery picks up pace.
"As investors build that into their expectations, it could well be the case that Irish assets might underperform," said Fahy at Kleinwort Benson.
Before it's here, it's on the Bloomberg Terminal.
LEARN MORE