Rubio: Torture Report Is About Dems' 'Pure Partisan Joy'
Eyes on potential Republican presidential candidates as a new report details torture of suspected terrorists.
By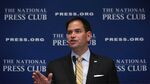 Senator Marco Rubio criticized Democrats for releasing a report on U.S interrogation techniques, saying the information would incite enemies abroad and endanger the nation's troops. Yet he dismissed a question about the actual methods detailed, saying that's old news. 
"Many of the things that are in that report have already been talked about in press accounts here or there," Rubio told reporters in Washington on Tuesday.
Rubio's response shows the line he and other potential Republican presidential candidates will have to straddle as they confront questions over the effectiveness and scope of how suspected terrorists were interrogated under the last Republican presidential administration. While most polling shows Americans are against torture, that opposition tends to lessen if voters believe it would make the country safer.
While waterboarding was banned by President Barack Obama in his first term, it's an issue that surfaced in the last Republican nomination battle.
The report could have the most immediate effect on Rubio's fellow Floridian, former Governor Jeb Bush, who, if he decides to run, would have to confront the unpopular actions taken while his brother, George W. Bush, was president. Jeb Bush's spokeswoman didn't immediately return an e-mail seeking his reaction on the report.
"There's no reason to have released this report except for the pure partisan joy that they're going to get from trying to embarrass people in the Bush administration," Rubio said.
Rubio, who has called for a robust expansion of the U.S. military, declined to answer directly when asked if it was appropriate to water-board suspects or force those with broken legs and feet to sit in stress positions.
"The U.S. should continue to aggressively pursue information that saves the lives of Americans," Rubio said. "We need to have the ability to interrogate people outside the realm of what you do in a criminal justice system."
Derek Wallbank contributed to this report.