Chairman of Republican Party Wants to Extend Reign
The Republican National Committee chairman says he's on track for a third term.
By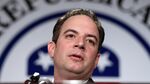 There's one more Republican winner from the November elections: party Chairman Reince Priebus. After winning back the Senate and flipping enough state legislative chambers to control about two-thirds of the states, Priebus is feeling pretty confident.