Neil Bush: Barbara Has Warmed to Idea of Jeb Running for President
The former first lady has changed her tune about "another Bush in the White House."
By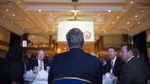 Maybe the White House could use another Bush, after all. Neil Bush, the brother of George W. and Jeb, says that his mother, Barbara, has reconsidered her pronouncement that "we've had enough Bushes in the White House."