Neil Bush: Barbara Has Warmed to Idea of Jeb Running for President
The former first lady has changed her tune about "another Bush in the White House."
By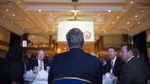 Maybe the White House could use another Bush, after all. Neil Bush, the brother of George W. and Jeb, says that his mother, Barbara, has reconsidered her pronouncement that "we've had enough Bushes in the White House."
Barbara Bush had made that comment on the "Today" show back in April in response to a question about whether she wanted her Jeb to try and become the third president in the family. In an interview on Monday on "With All Due Respect," however, Neil Bush described his mother's evolution on the matter.
"Mom has come around. I think I can say that publicly," Neil Bush told hosts Mark Halperin and John Heilemann, adding, "Mom's had so many people come up to her, saying your son Jeb ought to run, because he's the best qualified candidate to run, he's the one that can reunite the party … And so Mom's said, 'You know I've thought about it.' She's looked at the landscape and she really believes he'd be a great leader even though he'd have to make a sacrifices with family. She's really encouraging. She wants to take her negative comment off the table, let's put it that way."
 At a Wall Street Journal forum last week, Jeb Bush said he was doing "a lot of soul-searching" to try and decide whether or not to run for president.