Madoff Aide Sentenced to 6 Years in Prison for Fraud Help
Erik Larson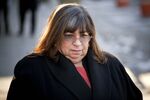 Bernard Madoff's former teenage secretary, who went on to run the investment-advisory business at the center of his $17.5 billion fraud, was sentenced to six years behind bars, less than half what the U.S. sought and four years shy of her own lawyer's suggestion.
Annette Bongiorno, 66, was an "overcompensated clerical worker" who was groomed for decades to aid her "beloved boss" without asking questions, U.S. District Judge Laura Taylor Swain said today in Manhattan. Swain noted Bongiorno had no education in the industry and still lived with her parents when she joined the con man in 1968.
"She was a 19-year old high school graduate whose ambition was to be a secretary," Swain said of Bongiorno's first days with Madoff. Regardless, the judge said in handing down her sentence, "Bongiorno must have willfully blinded herself to knowledge that she and her beloved boss were engaging in securities fraud."
Swain tempered her sentence by taking into account Bongiorno's age, health problems and the four years of home confinement she has already served.
Jurors who convicted Bongiorno and four ex-colleagues in March for their roles in the biggest Ponzi scheme in U.S. history rejected her claim that she wasn't aware of wrongdoing. Swain agreed the fraud must have been obvious to her by 1992, when the group spent days creating and altering three years' worth of fake account documents for a customer to avoid regulatory scrutiny.
Yesterday, Swain sentenced Daniel Bonventre, who ran Madoff's broker-dealer unit for almost 40 years, to 10 years in prison. Prosecutors had sought more than 20 years for each of them.
'Extraordinarily Fair'
Bongiorno's lawyer, Roland Riopelle, had argued that a term of eight to 10 years would be sufficient punishment.
The six year sentence is "extraordinarily fair," Riopelle told Swain today, appearing to choke up. The judge "showed greater mercy than I believed was possible."
Before the sentence was handed down, Bongiorno apologized to victims, saying she wasn't aware of the Ponzi scheme itself, but that she took responsibility for the fraudulent actions of which she was convicted.
"I am a broken person without assets, just like some of you," Bongiorno said to those in the courtroom. Madoff "knew I was not capable of figuring out his scheme."
The other defendants yet to be sentenced are Joann Crupi, 54, who managed large accounts at the firm; and computer programmers George Perez, 48, and Jerome O'Hara, 51, who automated the scam as it grew rapidly in the 1990s. O'Hara is scheduled to be sentenced later today.
Bongiorno was ordered to forfeit $155 billion, a sum the judge said she's jointly liable for with Madoff, Madoff's brother Peter, as well as her co-defendants in the scheme and others who pleaded guilty.
Phony Filings
The three men and two women used a web of fake account documents, phony regulatory filings and bogus computer programs to dupe customers into believing they owned shares in the most successful U.S. companies, jurors found. In reality, their cash was pooled in a slush fund and no shares were purchased.
The five former workers were paid millions of dollars in salary and perks, including unlimited use of the company credit card, in exchange for their help.
Bongiorno oversaw office workers who for decades filled account statements with bogus trades, often with predetermined gains and losses in mind. Her clerical workers, who weren't charged, testified they didn't realize the trades were fake.
Bongiorno argued during the trial that she also believed the trades were real and that she was merely selecting from a "basket" of real securities owned by Madoff. She said Madoff duped her into helping with the fraud by controlling what she learned about the securities industry.
Probation Recommendations
In court filings, the U.S. Probation Office said Bongiorno's crimes warranted a 20-year term, the same penalty it urged for Bonventre. The office recommended 14 years for Crupi and eight years each for Perez and O'Hara.
The government urged Swain to issue harsher sentences, arguing the defendants remain unapologetic and refuse to come to terms with their complicity in Madoff's scam.
Bongiorno took the stand during the trial, a move later criticized by jurors who said she was unbelievable. She testified she was upset when her duties expanded beyond typing and opening mail, and that she didn't like working with numbers. She told the jury she backdated customer trades almost every day and didn't realize it was wrong.
Madoff's use of historical buy-and-sell dates to reach predetermined profits on securities trades was standard procedure at the firm, Bongiorno testified. During her 40 years at the company, no one suggested the process was a scam, she said.
Paid Honeymoon
Madoff pleaded guilty to masterminding the scheme and was sentenced to 150 years in prison. His brother, Peter Madoff, who also worked for the company, pleaded guilty and is serving a 10-year term.
The fraud, hatched in the 1970s, targeted thousands of wealthy investors, celebrities, retirees and Jewish charities. It unraveled in 2008 when the economic crisis led to more withdrawals than Madoff could pay. In addition to $17.5 billion in principal, the collapse erased about $47 billion in fake profit that customers thought was being held in their accounts.
Bongiorno testified that Madoff paid for her honeymoon to France and England, and she cried while recounting how Madoff helped her care for her sick mother in the months before she died. Bongiorno said Madoff arranged for her mother to be placed in a facility that had previously told her they couldn't admit new patients.
Swain recalled the act of kindness today, saying it was indicative of the way Madoff made employees feel special and earned their loyalty.
The case is U.S. v. O'Hara, 10-cr-00228, U.S. District Court, Southern District of New York (Manhattan).
Before it's here, it's on the Bloomberg Terminal.
LEARN MORE