Harvard Law Students Want Ferguson Exam Delays, Too
Students at Harvard, Georgetown, and Columbia Law School say they were traumatized by the decisions made in the Michael Brown and Eric Garner cases
by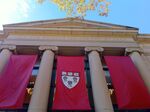 Students at Harvard, Columbia, and Georgetown Law School are demanding their schools postpone exams because they say they were traumatized by grand jury decisions made in Ferguson, Mo., and New York that failed to indict white police officers who killed black men.
"This is more than a personal emergency. This is a national emergency," Harvard Law School students wrote in a letter to the school's administration over the weekend. In a similar letter, Georgetown Law School students wrote: "We, students of color, cannot breathe. … We charge you to acknowledge that Black Lives Matter."
Most schools have policies that allow students who are observing religious holidays, have suffered a death in the family, or have a medical emergency to reschedule their exams. Yet the Michael Brown and Eric Garner cases could signify the first time schools have been asked to move exams because of a grand jury's decisions. It's also forcing law schools to evaluate individually whether students are traumatized enough that their exam grades would suffer should they be asked to press forward.
Columbia wrote to law students on Saturday that those "who feel their performance on examinations will be sufficiently impaired due to the effects of these recent events" can petition to have their exams rescheduled. As of Monday, "a small fraction" of students had requested their exams be moved, says Elizabeth Schmalz, executive director of communications and public affairs for the Columbia Law School. "To date, all rescheduling requests have been accommodated within the December exam period," she says.
Georgetown and Harvard have made similar concessions. Law students were told they could seek help from university counseling services and chaplains, attend discussions making sense of race and the criminal justice system, and approach their deans to talk about specific needs they have during the exam period.
In their letters, students say the decisions and subsequent outrage have kept them awake at night, distracted them, and made them question the integrity of the very legal system they are preparing to enter. They also complain of time constraints: Taking part in local protests has limited the time they have to prepare for exams.
"We join marches with the looming anxiety that spending our time organizing events and attending rallies could put our studies and positions in the law school community in jeopardy," Columbia students wrote in their letter.
Not everyone in the law community agrees that schools should accommodate emotionally driven extension requests. David Bernstein, a professor at the George Mason University School of Law, says that Columbia, while right to show sensitivity to its students, has "chosen to infantilize them, suggesting that adult law students can't handle hearing about perceived injustices in the world." Former attorney and Harvard Law School graduate Elie Mystal wrote in the blog Above the Law: Redline that "a lawyer kind of has to be able to function in the face of injustice."
"Nobody said it was going to be easy or even fair," Mystal wrote, "but showing up to take your test in the face of this adversity happens to be what is required. It's a learning experience: how do I excel when the racism is so thick that I can't breathe? It's a skill that you might as well learn in school because it will be required of you in life."
Before it's here, it's on the Bloomberg Terminal.
LEARN MORE