Hong Kong Police to Sweep Protesters From City Streets Tomorrow
Alex Davis and Dominic Lau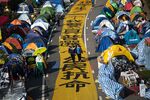 Hong Kong police will clear all protesters blocking roads around the government offices tomorrow, seeking to end the pro-democracy movement that has paralyzed the city center for more than two months.
The police will first assist bailiffs to execute a court order clearing parts of the area, before moving to reopen all nearby roads, Assistant Police Commissioner Cheung Tak-keung said late yesterday.
The clearance will leave the student-led protesters with little gains after China refused to budge on its decision to control the nomination process for the city's first leadership election in 2017. The focus will shift to the Legislative Council, where pro-democracy lawmakers have pledged to block the passage of the electoral bill without substantial changes.
"I hope that the illegal occupiers could leave the areas in a peaceful and orderly manner immediately," Cheung told reporters. "If they refuse to leave, police would disperse them and may effect arrest against anyone who attempts to obstruct police in execution of duty."
Public support has waned for the demonstrations, the biggest challenge to China's sovereignty over Hong Kong since the 1997 handover. An attempt to surround government offices to pressure Chief Executive Leung Chun-ying was beaten back by police on Nov. 30, while other protest leaders have surrendered to the police and urged the students to withdraw.
Looming Action
The clearance will begin at 9 a.m. tomorrow, according to Paul Tse, a lawyer for bus company All China Express Ltd., which had obtained the court injunction for the clearance at Admiralty district tomorrow.
The looming action has already prompted some protesters to leave the area, with the number of tents sheltering them decreasing and artwork lining the streets being removed. A last-ditch attempt by Scholarism, a student protest group, to negotiate with a hunger strike also failed.
The police will remove obstacles on Connaught Road Central, Harcourt Road, Tim Wa Avenue, Tim Mei Avenue and Gloucester Road, Cheung said yesterday. It will also clear barricades at the illegally occupied road sections in Causeway Bay, a second district where protesters have gathered, at the 'appropriate time.''
"The Hong Kong Federation of Students and Scholarism urge people who have taken part in civil disobedience to gather again in Admiralty on Thursday morning, if possible," Alex Chow, secretary general of the federation, said late yesterday, according to a video clip on Radio Television Hong Kong.
Causeway Bay
The protesters occupying Causeway Bay shopping district will probably leave soon, Melvin Lee, a demonstrator, said by phone yesterday. Still, some of the demonstrators in the neighborhood said they planned to stay until they were cleared.
"We want to do something before the government forces us to leave," said Yeung Wing-chi, 24, who works for a non-governmental organization in Hong Kong. "We want to emphasize that we won't give up the fight for universal suffrage. We will continue our movement in many means."
Hong Kong's police relied on similar injunctions to remove protesters from the Mong Kok district last month, resulting in dozens of arrests, including two of the student leaders.
"Continuing the occupation is high risk with low return," Benny Tai, one of the founders of Occupy Central with Love and Peace, a protest group, wrote in the Apple Daily newspaper yesterday. "If we look at it from winning over Hong Kong's people, it has already achieved a lot, even more than what was expected."
Protesters should stop as soon as possible as the movement is losing its effectiveness, Tai wrote. Tai, whose plans to occupy streets to pressure the government to allow free elections inspired the student-led protests, surrendered to the police last week. He wasn't arrested or charged.
Before it's here, it's on the Bloomberg Terminal.
LEARN MORE