Outgoing U.S. Defense Chief Hagel Makes First Baghdad Visit
David Lerman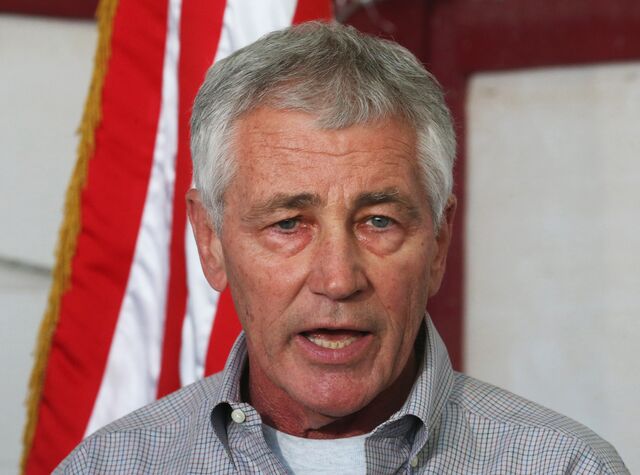 U.S. Defense Secretary Chuck Hagel made his first visit to Baghdad as Pentagon chief today to meet with Iraq's leaders, as the American war of airstrikes against Islamic State enters its fifth month.
Hagel, who's leaving his post after conflicts with White House officials, is on a farewell tour that also has taken him to Afghanistan, another U.S. war front. Today, Hagel plans to meet with Iraqi Prime Minister Haidar al-Abadi, who's won praise from U.S. officials for forming a more inclusive government than his predecessor.
Upon arriving at Baghdad's airport, Hagel told scores of U.S. troops and a small contingent of Australian soldiers that the future of Iraq is ultimately up to the country's government.
"It's their country," Hagel said of Iraqis. "They have to lead. They're going to be the ones who are responsible for the end result."
While President Barack Obama has pledged that U.S. forces serving as advisers and trainers won't become involved directly in ground combat, American officials have emphasized in recent days that Iraqi forces won't be ready for months to launch a counteroffensive in territory seized by Islamic State.
Iraq's shattered army needs more time to rebuild even though the Sunni extremists are "probably on the defensive" after more than 1,200 airstrikes by the U.S. and allies, Army Lieutenant General James Terry, commander of Joint Task Force Operation Inherent Resolve, told reporters traveling with Hagel yesterday in Kuwait.
Months Away
"It's hard for me to say when exactly it's going to be," Terry said of an eventual Iraqi offensive against the Sunni extremist fighters who seized much of western Iraq and took Mosul, Iraq's second-largest city, in June. "The current plan has it, I think reasonably, in months," he said.
Some U.S. military and intelligence officials said yesterday that they're worried the Iraqis may attempt to recapture Mosul before their military is up to the task.
The worst-case scenario, said one defense official, who like the others spoke on condition of anonymity to comment on U.S.-Iraqi discussions, is that the Iraqis could become bogged down, forcing Obama to decide between sending American combat troops to salvage the operation and seeing the Iraqis lose both the battle and the initiative.
Obama, who withdrew American troops from Iraq in 2011 after failing to reach a security agreement to extend the U.S. presence, redeployed American forces this year to help train and advise the Iraqi army. Last month, the president authorized sending 1,500 troops to Iraq, in addition to about 1,900 already there.
'A Mess'
Islamic State, which declared a self-styled caliphate, controls much of eastern Syria and western Iraq.
"Things have become such a mess," said Ali Khedery, chairman of Dubai-based Dragoman Partners LLC who spent seven years in Iraq advising U.S. ambassadors and military commanders. "The state has lost control of half of the country," Khedery said in an earlier interview. "It's a disaster."
Hagel won't visit Syria, where U.S. airstrikes are hitting Islamic State forces engulfed in the three-year-old civil war against President Bashar al-Assad. The U.S. also supports Assad's ouster.
There are about 30,000 Islamic State fighters, about two-thirds of them in Syria, according to a U.S. State Department official who briefed reporters this month on condition of anonymity.
The Defense Department says U.S. air operations over Iraq and Syria cost $855 million, or $8.1 million a day, through Nov. 20, the most recent figures available.
Before it's here, it's on the Bloomberg Terminal.
LEARN MORE