Freedom Industries Charged in Fraud After Chemical Spill
Jef Feeley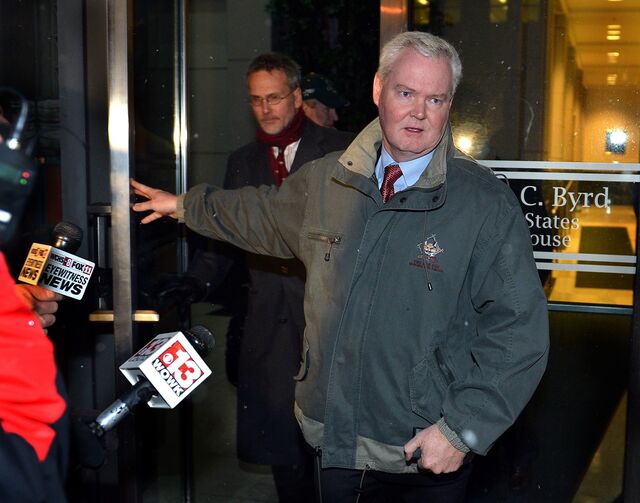 The former president of Freedom Industries Inc., the chemical maker that in January contaminated drinking water for 300,000 West Virginia residents, was charged with fraud in the company's bankruptcy filing, which was triggered by lawsuits after the catastrophe shut down water service to the state's largest city.
Gary Southern, an executive of Charleston, West Virginia-based Freedom since 2009, was arrested and accused of lying during bankruptcy proceedings in hopes of protecting about $8 million in personal assets, according to a Federal Bureau of Investigation complaint filed Dec. 8.
The chemical maker sought bankruptcy protection from creditors in January, days after state officials discovered that a leak from one of Freedom's tanks sent about 7,500 gallons of a cleaning agent used in coal-mining operations spilling into the Elk River. The spill contaminated drinking water for about 300,000 people in the Charleston area and sent more than 100 residents to the hospital.
Shortly after the leak was discovered, "Southern engaged in a pattern of deceitful behavior, which included numerous false and/or fraudulent statements" about his role at Freedom, FBI Special Agent James Lafferty said in court filings.
Southern couldn't immediately be located for comment and a lawyer for him wasn't listed in court documents.
The spill, West Virginia's fifth major industrial accident since 2006, forced some residents of the U.S.'s third-poorest state to buy bottled water for more than a month. Almost 18 percent of West Virginia residents live below the poverty line, according to U.S. Census figures.
$100,000 Bond
Southern, who owns a house on Marco Island, Florida, was arrested two days ago on bankruptcy-fraud and wire-fraud charges and appeared before a federal magistrate in Fort Myers yesterday, the Associated Press reported. He was released on a $100,000 unsecured bond and ordered to hand over his passport.
He's accused of misrepresenting his role at Freedom Industries and his involvement in the December 2013 sale of the chemical maker to Chemstream Holdings Inc., a company controlled by Pennsylvania coal-mining magnate J. Clifford Forrest.
As part of a probe into the cause of Elk River spill, Lafferty said he learned Southern testified under oath in the bankruptcy case that he hadn't worked at Freedom before Chemstream's acquisition of the company.
Records show Southern was hired as Freedom's chief operating officer in May 2009 and served on the company's board from March 2010 until October 2013, Lafferty said in an affidavit filed in federal court in Charleston.
'Financial Type'
Southern testified during a bankruptcy hearing that he worked for Freedom as "a part-time, financial type consultant" prior to the Chemstream acquisition, according to the filing.
Contrary to those statements, Southern "possessed and exercised significant management authority" at Freedom before the purchase, Lafferty said in the affidavit.
Southern also sought to downplay his role in the Chemstream acquisition, even though he "played a key role in the negotiations leading up to the sale," the FBI agent added.
The executive's misstatements were part of an effort to shield his $7.7 million fortune from creditors and plaintiffs who had sued over the spill, Lafferty said.
Freedom Industries' bankruptcy filings listed assets of $16.1 million and debt of $6.8 million, not including claims resulting from the chemical spill.
After determining reorganization wasn't possible, the Charleston, West Virginia-based company decided to liquidate and filed a plan on Aug. 18.
The bankruptcy is In re Freedom Industries Inc., 14-bk-20017, U.S. Bankruptcy Court, Southern District of West Virginia (Charleston).
Before it's here, it's on the Bloomberg Terminal.
LEARN MORE