Forced Out of Tinder, a Former Exec Creates a Less Creepy Dating App
Whitney Wolfe, a former executive who sued Tinder for sexual harassment in June, is launching a dating app called Bumble that will compete directly with Tinder by offering women greater power over interactions with men
By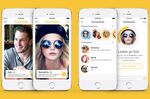 Remember Whitney Wolfe, the ousted Tinder executive whose sexual harassment lawsuit made the company look like a living hell for female employees? She's back with a new app designed to make online dating less creepy for women. It looks a lot like Tinder.
Last week, Wolfe launched Bumble, which, like Tinder and many similar apps, shows men and women a series of potential suitors in their geographic area. Users flick faces left or right to indicate whether they want to save or dismiss profiles.
"This is not Tinder rebooted," Wolfe insists. Bumble's gimmick: Only women can start conversations with their connections. If a woman doesn't get in touch with a guy, he disappears from her feed—unless he chooses to extend for an additional 24 hours the time frame she has to ping him. (Guys can only do this with one connection per day). With gay and lesbian users, either party can send the first note. The app will not erase the possibility that men will send messages that make women uncomfortable—"The product cannot control how to people speak to each other," Wolfe says—but giving women even a little bit more control over their inbox is bound to cut down on trolls.
Early adopters could be forgiven for seeing a lot of Tinder in Bumble. The apps, in addition to having features in common, share a sparse, white-space-heavy aesthetic. (Wolfe attributes the likeness to the fact that she hired designers Chris Gulczynski and Sarah Mick, who helped create Tinder's look.)
If Bumble is successful, it could help Wolfe win vindication for a claim she's long made: that she was instrumental to Tinder's founding. 
"I know what I brought to the table, and the best way for me to prove that to myself—and to whomever it might matter to—is to do it again," says Wolfe. 
In September, Wolfe, Tinder's former vice president of marketing, settled a lawsuit that accused Chief Executive Officer Sean Rad and marketing chief Justin Mateen of writing her co-founder status out of the company's history and sending her a "barrage of horrendously sexist, racist, and otherwise inappropriate comments, emails and text messages." While public disagreement remains over her role at Tinder, the painful situation seems to have shaken out largely in Wolfe's favor:  Mateen resigned, Rad lost his CEO title, and Wolfe kept equity in the company. 
The lawsuit had one unmitigated upside for Wolfe in the form of a wealthy Russian investor. A week after she filed the claim, Wolfe says she received an e-mail from Andrey Andreev, a Moscow-born, London-based entrepreneur who started the global social network Badoo, expressing support. 
At first, she didn't reply because she was limiting interactions to her inner circle. But when Andreev sent a second note, she figured she had to "be polite and respond." They began a back-and-forth about Wolfe's next move and met in London in August. Eventually, they hatched a plan to start a new "female-focused product," Andreev said in an e-mail. 
"Many women are turned off by online social interactions because they don't want to participate in something where they are bombarded by unwanted attention," Andreev wrote.
In Wolfe, Andreev wrote that he saw a business partner with "gumption and originality," and he said she had what it took to compete in a crowded marketplace. "There are also very few people who approach an existing space with a new perspective and have the vision to really change it, this is something that I think Whitney did."
Adding a location-based dating app to those already on the market may seem like a strange business decision, if you think we've reached peak dating app. Wolfe believes that our capacity for staring at pictures of people is as limitless as our capacity for staring at devices. "If we are looking at our phones all day long, and we aren't even looking around us to have new interactions, then you might as well have a good place to meet people there," she says
Getting into the dating app business is a bit like a opening a new bar in downtown Manhattan, where most of your neighbors offer the same thing you do. Wolfe is betting that she can differentiate Bumble by creating a space where it's always ladies night.     
Before it's here, it's on the Bloomberg Terminal.
LEARN MORE