Crackdown Weakens Divided Venezuela Opposition as Election Looms
Anatoly Kurmanaev and Andrew Rosati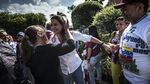 Here's the kind of a year it's been for Venezuelan opposition leader Maria Corina Machado: She's been assaulted by pro-government militants, banned from leaving the country, kicked out of Congress -- and last week charged with conspiring to kill President Nicolas Maduro.
Machado's difficulties symbolize a crackdown that is weakening an already divided opposition, reducing its ability to capitalize on popular discontent building over the fastest inflation in the world, shortages ranging from meat to medicine and the repression itself.
Maduro's government, the most unpopular in at least 15 years, is squeezing its opponents as it tries to tighten its grip on power before congressional elections scheduled for next year, said Diego Moya-Ocampos, an analyst at political risk consultancy IHS Inc. A victory by the opposition in the vote could pave the way for a plebiscite in 2016 on whether Maduro should resign.
"Maduro's use of state institutions to go after political opponents hasn't been seen in Venezuela since the fall of the last dictatorship in the late 1950s," Moya-Ocampos said by telephone from London Dec. 8. "This level of repression is unprecedented in the country's recent history."
'Criminalized Protests'
And it's working, according to David Smilde, senior fellow at the Washington Office on Latin America. Internal divisions are preventing the opposition from presenting a coherent economic plan to the voters, while repression is diminishing its capacity to campaign ahead of the vote, he said.
"The government has criminalized the protests, limiting what the opposition movement can do on the streets," Smilde said. "As an organized force, the opposition will enter this electoral year weaker than the previous one."
To quell the biggest protests against the government since 2002, Maduro sent troops to the streets to disperse demonstrators with tear gas, rubber bullets and water cannons. More than 3,400 Venezuelans were detained between February and May, according to Foro Penal, a non-profit organization that represented about half of the detained in courts.
'Immense Majority'
Popular Will Party leader Leopoldo Lopez and opposition mayors Daniel Ceballos and Enzo Scarano are still in jail, accused of instigating violence that killed at least 43 people in three months of demonstrations.
"There isn't any pressure in the world that will stop justice for those who propelled those violent protests," Maduro, 52, said in a speech from Caracas yesterday. "The forces of counter-revolution are divided and discredited by the immense majority of the people -- right wing gremlins won't destroy the happiness of New Year," he said.
The opposition's 2013 presidential candidate, Henrique Capriles, 42, says the protests did more harm than good.
"The slow process of building an electoral majority in house-by-house campaigning was interrupted earlier this year by protests that didn't yield results and generated a fracture within the opposition," said Capriles, who is also governor of Miranda state. "The people behind them don't understand the dynamic and don't have a clear understanding of the country."
Preparing Candidates
Capriles said the opposition must focus on preparing candidates to win next year's vote. A majority in the National Assembly will allow the opposition to change economic policy, free political prisoners and make it easier to mobilize the population for a referendum on Maduro's resignation after April 2016, he said in an interview Nov. 25 while visiting constituents in Barlovento, Miranda.
"My vision is a longer path, but it's a path sure to get to the destination," he said.
Machado and many others in the opposition are more impatient.
"What should we wait for? For the electoral schedule imposed and changed around at whim by this dictatorship?" said Machado, 47, in an interview Nov. 26, the day she received court summons. "The fight is today: Maduro must go now. Someone who spends time thinking about candidates now understands nothing of what's happening in the country."
Maduro's Resignation
To force Maduro's resignation before his term expires in 2019, Machado's allies at Popular Will last month started collecting signatures to trigger a constitutional clause for a popular overhaul of democratic institutions. As of yesterday, the party had about 800,000 signatures of the 2.8 million needed in what is an open-ended campaign, according to its national organizer Luis Florido.
"We can't just stand around with arms crossed and do nothing, we must sign the form," Lopez's wife Lilian Tintori said in an interview at her Caracas home Nov. 21. "How can they talk about elections when there are political prisoners in the country?"
There are now three groups within the alliance jostling for positions in the next government, Moya-Ocampos said.
Since the end of the protests in May, the economic crisis has deepened. The economy of Latin America's biggest oil exporter will contract 3 percent this year and consumer prices will rise 62 percent, according to economists surveyed by Bloomberg.
Venezuelan bonds fell to the lowest in 16 years in intraday trading at 9:40 a.m. on concern falling oil prices will prompt a default. Traders are betting there's a 73 percent chance of a Venezuelan default over the next two years, according to derivatives trading.
Hour-long lines to buy products and soaring crime have pushed Maduro's popularity to the lowest level for a president since the late Hugo Chavez was elected in 1999, said director of polling company Datanalisis Luis Vicente Leon said by text message. He declined to give specific numbers, saying the information isn't public.
Rally Points
The central bank stopped publishing scarcity statistics in March, after the previous month's data showed that more than one in four basic goods was out of stock at any given time. Under Chavez, Caracas' murder rate rose to the highest in the world among world capitals, according to the United Nations, which relies on figures from non-government organizations in the absence of publically available official statistics.
The Information Ministry and Maduro's office declined to comment on the government's falling popularity and repression against the opposition.
The scale of the problems facing the country will force the opposition to put aside differences as the elections get closer, said Leon. "The opposition has never reached a consensus around radical events such as protests, but has historically rallied around elections."
'Better Devil'
The opposition hasn't been able to communicate an economic plan to solve the problems of the poor majority, limiting its appeal to the middle classes, Jose Vicente Carrasquero, a political science professor at Simon Bolivar University, said by telephone from Caracas yesterday.
"The lower classes losing faith in the government are not joining the opposition because those parties don't talk the language of their real needs."
For Jose Antonio Garcia, who installs natural gas pipes, the economic collapse hasn't been enough to prompt him to rally behind the opposition.
"No one pays the opposition any attention anymore," Garcia, said Nov. 29 while getting on his motorbike to drive to work in the western city of Barquisimeto. "It's all the same, they aren't offering anything new. Better the devil you know with Maduro."
Garcia was unaware that Machado was holding a national event that same day just half a block away.
Machado said she no longer publicizes her rallies after pro-government supporters shouting "we will kill you" smashed up her car with pistol butts in July, she says.
"I am not even putting events on Twitter anymore, it's all word of mouth." she said.
Before it's here, it's on the Bloomberg Terminal.
LEARN MORE