Campus Sexual Assault Response Criticized by U.S. Senators
Kathleen Miller and John Lauerman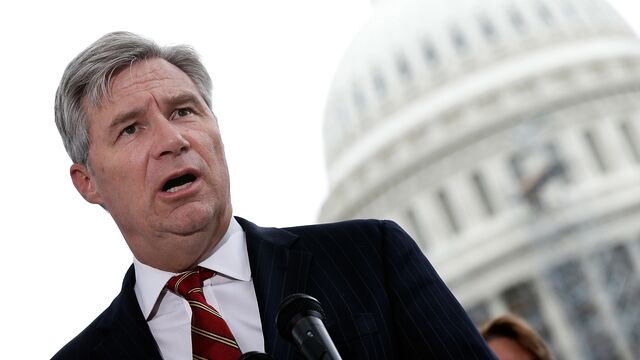 Police departments must be involved in investigating sexual assaults on campuses to ensure colleges don't minimize the crime to protect their image, a U.S. senator said at a hearing today.
"I am concerned that law enforcement is being marginalized when it comes to the crime of campus sexual assault," said Sheldon Whitehouse, a Rhode Island Democrat who leads a Senate Judiciary subcommittee.
A lack of law enforcement response "sends the message that what happened to the victim didn't matter," he said. "This message fits too neatly with the pressure school administrators may feel to downplay campus sexual violence."
Lawmakers at the federal and state level are seeking more prosecutions of sexual assaults and tougher penalties for educational institutions that fail to pursue cases. While many rape victims have been reluctant to report crimes to police, a wave of assaults has fueled calls to direct more complaints to the justice system.
The hearing took place weeks after the University of Virginia campus in Charlottesville was tossed into turmoil by a now-discredited Rolling Stone magazine article about an alleged gang rape of a woman at a fraternity that wasn't reported to police.
Article's 'Discrepancies'
The publication has since backtracked from the Nov. 19 article, saying last week there were "discrepancies" in the supposed victim's account. Local law enforcement is investigating the allegations.
Senator Claire McCaskill said at the hearing she is "saddened and angry" about the "bad journalism" in the Rolling Stone article.
The article was a "setback for survivors in this country," said McCaskill, a Missouri Democrat. "This is not a crime where you have rampant false reporting and embellishment."
Senator Kirsten Gillibrand, a New York Democrat, echoed McCaskill's concerns.
"Clearly we don't know the facts of what happened or didn't happen" in the alleged University of Virginia gang rape case, Gillibrand said. "But these facts have not changed: UVA has admitted that they have allowed students who have confessed to sexually assaulting another student to remain on campus."
'Broken System'
"I refuse to let this one story become an excuse for Congress not to fix a broken system," Gillibrand said.
The subcommittee had been organizing the hearing for several months, Seth Larson, a Whitehouse spokesman, said in an e-mail.
"The hearing does not stem from the Rolling Stone story," he said.
McCaskill and Gillibrand are part of a bipartisan group of senators who this year introduced the Campus Accountability and Safety Act. That bill would require all colleges in the U.S. to have a memorandum of understanding with local law enforcement to divide responsibilities and share information when certain crimes occur, including acts of sexual violence.
Lawmakers should "consider carefully" the benefits of such a policy, Kathy Zoner, chief of police at Cornell University in Ithaca, New York, told the subcommittee.
The bill's proposed fines for colleges that don't comply with the memorandum requirement might lead to over-enforcement if the federal government is allowed to keep the money, Zoner said. Fines should be used for training on how to better investigate traumatic events like sexual assaults, she said.
'Same Way'
Iowa Republican Senator Chuck Grassley said at today's hearing, "I think a crime of rape off campus or a crime of rape on campus ought to be treated the same way."
"The sooner it's treated the same way, the sooner the message is going to get out that you can't get away with something on campus that you couldn't get away with somewhere else," Grassley said. "It's high time to make sure a crime is a crime."
Whitehouse said it is significant that Grassley, in line to become chairman of the Senate Judiciary committee when Republicans control the chamber in January, made that point.
"This has been a dirty little secret for too long" on college campuses, said Senator Chuck Schumer, a New York Democrat.
Grand Jury
Whitehouse, the subcommittee chairman, said law-enforcement officers can ensure evidence is properly collected and preserved, and bring professionalism and "tools like subpoenas and grand jury, in the place of amateur university investigations."
"It eludes the built-in conflict of interest of a university that wants the sexual assault problem minimized or hushed," he said.
One in five women in the U.S. have been raped, most before age 25, according to the U.S. Centers for Disease Control and Prevention in Atlanta.
Advocates for rape victims say that many don't want to go to the police. They fear publicity and a court system that often blames them for their behavior before the assault. Some victims are so traumatized that they have difficulty recalling details about the assault and telling their stories.
Even if a school's administrative process holds the accused responsible, that person might be suspended or expelled and simply enroll at another school, said Angela Fleischer, assistant director of student support and intervention at Southern Oregon University in Ashland.
Offend Again
"Because academic records are protected, they are free to offend again," Fleischer said during the hearing.
About 90 colleges are being investigated by the U.S. Department of Education's Office for Civil Rights over policies on sexual-assault prevention, investigation and adjudication that may violate Title IX, the law that prohibits gender discrimination in education.
The White House has also made fighting sexual assaults a priority this year. President Barack Obama unveiled a national campaign called "It's On Us" in September enlisting celebrities to raise awareness about the importance of obtaining consent before sex and protecting friends from being assaulted.
The number of forcible sex offenses reported on or near college campuses rose to 5,054 in 2013 from 4,149 in 2012, according to the U.S. Education Department.
The University of Virginia said last week it is adopting a zero-tolerance policy on sexual assault and will "instill a culture of reporting."
The Charlottesville Police Department said it is investigating the account detailed in Rolling Stone. The article was questioned by media critics because the reporter failed to contact or verify the existence of the alleged perpetrators.
Before it's here, it's on the Bloomberg Terminal.
LEARN MORE