Bull Market for Leather Seen Lasting for Years: Chart of the Day
David Wilson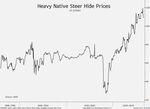 Leather for shoes, handbags, auto upholstery and other items is going through a price surge that may last for years, according to Laurent Vasilescu, a Macquarie Group Ltd. analyst.
The CHART OF THE DAY tracks the average U.S. price of unbranded steer hides that weigh 58 pounds or more before being trimmed, according to weekly data compiled by the Department of Agriculture. Vasilescu referred to the heavy native hides in a report two days ago as a "very good proxy" for leather prices.
Hide prices more than quadrupled from March 2009 through the first week of November, when they climbed to $119.50. Last month's peak was the highest price for the commodity since at least 1997, the USDA's data showed.
While the average price fell 9 percent in the last four weeks to $108.75, "the short-term squeeze on leather may have a longer-term effect," Vasilescu wrote. The New York-based analyst cited the prospect that growth in the middle class worldwide will cause demand to increase faster than supply.
The middle-class population will increase at a 7 percent annual rate through 2020, according to projections made by the Organization for Economic Cooperation and Development and cited in the report. The pace exceeds a 1 percent growth rate for the number of cattle worldwide, as predicted by the United Nations Food and Agricultural Organization.
"Leather continues to remain at virtually an all-time high," Blake W. Krueger, chairman and chief executive officer of Wolverine World Wide Inc., said during an Oct. 14 conference call after the shoemaker's third-quarter earnings report. "We frankly don't expect that to change any time soon."
Before it's here, it's on the Bloomberg Terminal.
LEARN MORE