Approval Ratings Hit 5-Year High for Republicans
President Obama's ratings hit bottom in a new Bloomberg Politics poll as he prepares to take on an antagonist Congress.
By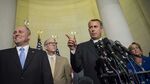 Republicans are enjoying a five-year peak in popularity after their wins in the midterm elections, according to a new Bloomberg Politics poll, while President Barack Obama struggles with his lowest job approval rating, at 39 percent. The White House also is facing a backlash from independents who oppose his unilateral moves on immigration, and just 24 percent say the country is on the right track, the lowest rating since September 2011. 
Obama's weakened standing comes as he and the rising congressional Republican leaders are poised to become partners—or adversaries—in guiding the nation. They will start in January on more equal footing, the poll shows. Forty-five percent of Americans say they now view the Republican Party favorably, while 47 percent hold an unfavorable view. That's the best showing the party has had since the inception of the poll in September 2009. Opinion about the Democratic Party has plunged, with a favorable rating of 41 percent and an unfavorable rating of 50 percent. This was Democrats' worst showing in more than five years.
Still, any Republican lawmaker or 2016 presidential hopeful tempted to declare a mandate may want to heed these warning signs: Americans also are more likely to view Republicans as more confrontational than Democrats, and to say Republican politicians are more motivated by their desire to antagonize Obama. In addition, individual Republican leaders tested aren't benefiting from the 8-point uptick in views of their party. For House Speaker John Boehner and incoming Senate Majority Leader Mitch McConnell, more respondents have unfavorable than favorable views.  


"This is a rising tide for Republicans while the tide has kind of gone out for the Democrats," said J. Ann Selzer, president of Selzer & Co., which conducted the poll. "Now that the midterms are over, it seems to me it's incumbent on them to pivot for 2016. They've had a strong ride in beating up on Obama. Now, exactly how long is that the relevant message? People are eventually going to want to hear 'We're going to do this.' They're going to want to hear a positive message—not just 'we have to stop Obama.'" 
Roman Kenenitz, 62, a Democrat from Mount Carmel, Pa., says that "mainly the disgust with Obama" is what's driving his more favorable views of the Republican Party rather than any sense that they are getting things done. His shift in partisan preference was intensified after the president last month announced a reprieve for the undocumented parents of children born in the U.S. and an expansion of permits for high-skilled foreign workers. Kenenitz said that Obama is "too much of a flip-flop type guy" and that "with him pulling this executive power" the president is "like a crybaby—'it's my way or no way'—and I just don't feel he's doing a good job."
"Right now I feel they're trying to put the brakes on him," Kenenitz said of Republicans. But ask him who he likes for president in 2016, and he mentions Democrat Hillary Clinton, though he says he's open to a Republican as well. "I vote for who I feel will do the best," he said. "I actually put a lot into it."
Americans remain skeptical about the motivations of the ascendant congressional majority. Almost a majority, or 49 percent, say Republicans have been more confrontational while 32 percent say the Democrats have taken that posture. A clear majority also says Republicans are more motivated by their antagonism toward the president than their vision for the country—55 percent to 34 percent. The findings are essentially reversed when they were asked about Obama, with 54 percent saying he's motivated by his vision and 36 percent saying he's driven by antagonism toward Republicans. "If what they're doing is out of antagonism, are they making choices that aren't really about their values?" Selzer said. Republicans run the risk of "sort of painting themselves into a corner" if they continue on this path once they're in control of both chambers of Congress or running for president against a candidate who is not Obama.
Obama is viewed favorably by 45 percent of Americans, a tick higher than in a June. A bright spot in the survey: his approval rating on managing the economy rose five points since June to 42 percent, although a majority, 53 percent, still disapprove of the job he's doing on that issue. Americans also issued negative ratings for his handling of health care, the budget deficit, immigration and foreign policy. His lowest approval rating—32 percent—is on the question of negotiating with the Republican majority in the U.S. House. 
As for Obama's decision to take executive action to give some illegal immigrants temporary legal status, 56 percent say they don't approve, while 39 percent are okay with it and 5 percent aren't sure. This is partly a partisan issue; 83 percent of Republicans oppose the decisions while two-thirds of Democrats favor them. More ominously, though, a clear majority—57 percent—of independents oppose the actions.

The Bloomberg Politics poll of 1,001 U.S. adults was conducted Dec. 3-5 by Selzer & Company of Des Moines, Iowa, and has a margin of error of plus or minus 3.1 percentage points.
MORE FROM THE BLOOMBERG POLITICS POLL