BP's Gulf Liability Nightmare Won't Be Stopped by Supreme Court
Paul M. Barrett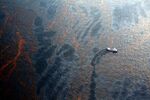 If BP didn't realize it before, the U.S. Supreme Court just made it unmistakably clear: The British oil producer has backed itself into a dangerously vulnerable position in the Gulf of Mexico spill-liability wars.
The high court on Monday turned down BP's plea for an intervention in the multibillion-dollar litigation fracas stemming from the April 2010 disaster that killed 11 offshore rig workers and spewed millions of gallons of crude in the waters off Louisiana. In the narrowest sense, the Supreme Court's unwillingness to wade into the spill litigation means that an open-ended settlement of one portion of BP's liability will now cost billions of dollars more than the original $7.8 billion estimate.
An abrupt "no thanks" to BP's invitation—which, as is their practice, the justices didn't explain—could have much broader implications. The company's appeal to the nation's top court amounted to an unusual frontal attack on the federal trial judge overseeing other aspects of the multifaceted spill litigation. Now that the judge, Carl Barbier of New Orleans, no longer has to worry about the Supreme Court second-guessing his supervision of the BP case, it's likely BP will pay an expensive penalty for having repeatedly challenged the integrity of the settlement process he has overseen and defended.
Plaintiffs' attorneys Stephen Herman and James Roy said in a statement that the high court's rebuff "should finally put to rest BP's two-year attack on its own settlement."
To understand the significance of what happened today, let's review a highly simplified chronology of this complicated case. Shortly after its well explosion led to the worst offshore oil calamity in U.S. history, BP moved to minimize lawsuits and provide funds for cleanup and damage claims. In 2010, the company established an initial $20 billion fund for these purposes and began trying to negotiate settlements of various government and private suits. So far, BP says it has written checks for more than $28 billion.
Seeking to avoid a trial on one category of potentially extensive business and economic claims, the oil company agreed in 2012 to a settlement whose cost it estimated at $7.8 billion. That pact with plaintiffs' attorneys had no overall cap and relied on a highly flexible formula for determining which alleged victims qualified for payment. As we noted in this July 2013 Bloomberg Businessweek cover article, a feeding frenzy ensued, with hundreds of large-dollar claims coming in that had no apparent connection to the spill. BP accused both the plaintiffs' lawyers and the settlement administrator appointed by Judge Barbier of abusing the pact. The company identified what it called exaggerated and even "fictitious" claims totaling hundreds of millions of dollars. Barbier generally rejected BP's objections and made no secret that he took offense at the company's suggestions that it was being victimized by hometown New Orleans justice.
It was this portion of the dispute that the Supreme Court declined to review. BP miscalculated that it could draw the justices into the case at this stage. The interpretation of the business-claims settlement boiled down to a one-time-only contract dispute complicated by highly idiosyncratic facts—not the sort of broad-reaching constitutional or statutory clash the high court normally seeks to resolve.
Having questioned Barbier's oversight of the settlement process, BP may actually have drawn additional attention to the pact's loose terms. The company now estimates that its liability under the business-claims settlement will exceed $9.7 billion, and plaintiffs' attorneys newly encouraged to take a shot are predicting the figure will be much higher. Bloomberg Intelligence analyst Brandon Barnes agrees. He estimates that the settlement ultimately may cost the company an enormous $20 billion.
And that's not the end of it. On another front, BP faces a continuing suit filed by the federal government under the Clean Water Act. The separate liability in that trial could reach $18 billion—and the sole decision maker will be none other than Judge Barbier. In other words, the very trial judge whom the company attempted to take to the Supreme Court wood shed will now have it within his power to sock BP with a fresh huge verdict that turns on highly particular factual determinations unlikely to draw the attention of the Supreme Court.
Geoff Morrell, BP's top U.S. spokesman, said via e-mail that the company "remains concerned" that it is being asked to pay claims unrelated to the 2010 spill. "On behalf of all our stakeholders, we will therefore continue to advocate for the investigation of suspicious or implausible claims and to fight fraud where it is uncovered. In doing so, we hope to prevent further exploitation of our commitment to compensating all those legitimately harmed by the spill."
BP knows it has more checks to write. The company has taken a pretax charge of $43 billion to cover all of its spill liability. With today's Supreme Court (non)action, however, that charge increasingly looks like it won't be enough.
Before it's here, it's on the Bloomberg Terminal.
LEARN MORE