Why Women in Banking Don't Get to Make Decisions, Even When They're Managers
Women in leadership roles are most heavily represented in HR and marketing—not profit-driving departments that usually lead to the C-suite
By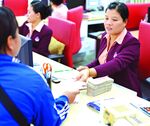 Plenty of investment banks and financial-services firms are, it would seem, great places for women to work—many boast a workforce that's more female than male. But even companies that employ a high percentage of women tend to predominantly have men in positions of power, a new report finds. When women do climb to a leadership role, they're often managers in the human resources or marketing department.
The report (PDF), released last week by global management consulting firm Oliver Wyman, looked at the staffing breakdown of more than 150 financial-services firms around the world and found that women comprise just 11 percent of executives leading a business unit or region, and a scant 4 percent of CEOs. Among executives, women outnumber men only in HR. They make up almost half of the managers in marketing departments. 

There's nothing wrong with leading teams in HR or marketing, of course. The problem is, these roles come with less power: Marketing and HR aren't the departments where you find the decision-makers who directly affect a company's profits and losses, or P&L people. The lack of women in P&L has a ripple effect on diversity up the corporate ladder, the report says. Only 6 percent of CEOs of companies listed on the Standard & Poor's 500-stock exchange did not have a P&L role before being tapped for the C-suite, according to the report.
"When we see women clustered in support functions like marketing and HR, they're not getting board-ready, and that's critical," says Marilyn Nagel, chief executive officer of Watermark, a nonprofit trying to boost the number of women in leadership positions. 
Critics calling for banks to promote women to more executive-suite jobs often miss one source of the problem. In addition to discriminatory attitudes on Wall Street, there's a scarcity of women out there with the P&L experience that selection committees have deemed essential for top leadership roles, as my colleague Jeff Green reported for Bloomberg News. While that may be part of the problem, Nagel says companies need to ditch the tired stereotypes that contribute to funneling women into traditionally feminine jobs, and encourage more women to take on more profit-driving roles.
"We think of women in HR because we think they're nurturing, but we don't see them as driving business," Nagel says. "It's the same thing as marketing—we have an old association that says women do well in roles that are more creative and less hard-line, business-driven. If we saw them as being business-drivers, we'd give them more P&L responsibility."