Ukraine Observes Truce as Russian Gas Supply Resumes
Kateryna Choursina and Volodymyr Verbyany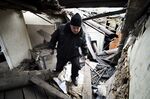 Ukraine and its pro-Russian separatist adversaries grew closer to resuming peace talks after a one-day truce was broken by sporadic firing.
Ukrainian forces didn't respond to shelling and small-arms fire, and adhered to a cease-fire in the eastern part of the country, the Security and Defense Council said on Facebook following a deal with Russia, the rebels and the Organization for Security and Cooperation in Europe. Wider truce talks are possible later this week, the Tass news service reported, citing separatists and unidentified officials in Kiev.
The negotiations would be a resumption of those that clinched a Sept. 5 cease-fire in Minsk, Belarus that's been broken almost daily, with 192 Ukrainian troops killed since, the army said yesterday. Past cease-fire agreements between Ukraine and rebels have failed to end a conflict that's triggered the worst standoff between Russia and the U.S. and the European Union since the fall of the Iron Curtain.
"We hope that an agreement on conducting such a meeting will be reached soon," Ukrainian Foreign Ministry spokesman Yevhen Perebyinis said on Twitter. "The way for de-escalation in the conflict is set in the Minsk agreements. This means the cease-fire first."
Merkel's Diplomacy
Ukrainian President Petro Poroshenko and his allies blame Russian President Vladimir Putin for instigating the crisis. Russia denies involvement.
"We are pinning our hopes on the fact that a cease-fire was declared," Russian Foreign Minister Sergei Lavrov told reporters in Moscow yesterday. "Russian officers helped in this at President Poroshenko's request."
German Chancellor Angela Merkel, who has vowed to uphold Ukraine's territorial integrity, said she's convinced the crisis can still be solved by diplomacy and that she'll make every effort to help achieve a political solution.
"This conflict cannot be resolved militarily," Merkel told a convention of her Christian Democratic Union in Cologne.
Poland will support a new round of economic sanctions against Russia if the conflict continues, Prime Minister Ewa Kopacz told journalists in Bratislava, Slovakia yesterday. She said the conflict can be managed if the EU, which along with the U.S. has blacklisted individuals and companies tied to Russian President Vladimir Putin's March takeover of Crimea and those supporting the rebellion, remains united.
Russia began its first shipments of natural gas to Ukraine yesterday since it cut off supplies in June over unpaid bills.
Aid Shortfall
The conflict has hit Ukraine's economy, which the government sees contracting by 7 percent this year. While the former Soviet Republic has a $17 billion international bailout, it needs $15 billion more, the Financial Times reported yesterday, citing officials involved in talks with the International Monetary Fund. That's close to estimates given by economists that the government in Kiev must increase its bailout to $30 billion.
The Ukrainian hryvnia has lost 47 percent against the dollar this year, the worst performance of currencies tracked by Bloomberg. The ruble has tumbled 26 percent against the dollar over the past two months, extending this year's slide to 39 percent, the worst performance among 24 emerging-market currencies tracked by Bloomberg. It was down 0.9 percent yesterday. Russia's benchmark Micex index has plunged 8.4 percent in the past four days.
Small-Arms Fire
Rebels fired on Ukrainian positions 13 times in the conflict area with small arms, mortars and artillery, the National Security and Defense Council said on Facebook. There was also small-arms fire near the Donetsk airport and Ukrainian troops saw drones near Mariupol, it said.
In Moscow, Kremlin foreign-policy aide Yuri Ushakov said that Russia is doing "everything" to ensure the Ukrainian talks are held this week. Russia supports Ukraine's territorial unity and remains hopeful that a cease-fire will be reached soon, Putin said during a Dec. 6 meeting with French President Francois Hollande in Moscow.
Denis Pushilin, permanent representative for truce talks from the self-proclaimed Donetsk People's Republic, also said he sees Minsk talks this week. He said he was waiting for the Ukrainian side to confirm the agenda, according to the state news service RIA Novosti. Talks cannot be held until Dec. 12 at the earliest, Pushilin said, as cited by Interfax-Ukraine.
More than 4,300 people have died in the Ukrainian conflict, according to a United Nations estimate.
Before it's here, it's on the Bloomberg Terminal.
LEARN MORE