'Tiger' Zhou Yongkang to Be Tried for Corruption in China
By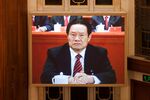 After months of uncertainty, the news came in the wee hours of Saturday morning: Zhou Yongkang, former security czar and retired member of China's most elite political body, the Politburo Standing Committee, has been expelled from the Communist Party of China and arrested, and will stand trial for a range of serious crimes, including taking bribes, adultery, and leaking state secrets. He is the most senior official toppled for corruption since 1949.
"What Zhou did completely deviated from the Party's nature and mission, and seriously violated Party discipline. His behaviors badly undermined the reputation of the Party, significantly damaged the cause of the Party and the people," said a statement released after a meeting of the Political Bureau of the CPC Central Committee, the official Xinhua News Agency reported on Saturday.
The decision to push for a trial for "Tiger" Zhou ("tiger" is the phrase used to refer to a corrupt high-level official) is a risky one that could backfire on President Xi Jinping. A less bold alternative: simply stripping Zhou of his party membership and allowing news about his crimes to fade away.
Xi has clearly opted for the less easy option but one that ensures maximum publicity for his two-year effort to crack down on corruption. By arresting Zhou the president clearly wants to show that even high-ranking officials are not immune to prosecution for their corrupt behavior. Just as important, Xi intends to warn others that he has amassed a level of power so formidable that others should not dare cross him. "Even a monster-size tiger like Zhou cannot escape the fate of being shut in a cage," reported the party mouthpiece People's Daily on Sunday.
"What Xi is doing is, to put it mildly, disliked by the establishment, particularly retired standing committee members," Steve Tsang, head of the School of Contemporary Chinese Studies at the University of Nottingham, said in an e-mail, according to Bloomberg News. "If Xi stumbles, the knives will be out for him. But Xi has no intention to let that happen and by being assertive is requiring others to support or follow him publicly."
So far it seems to be working. At least seven different provincial party committees, including those in Shanghai and Tianjin, released statements pledging their fealty to Xi's anti-graft efforts, the Global Times reported on Monday. Military brass also chimed in: "The announcement [detailing actions against Zhou] was well-received by all the officers and soldiers," the People's Liberation Army Daily reported. "It has deeply won the hearts of the party, the military, and the people."
Xi, too, seems to be aiming for maximum symbolic effect. According to a post that appeared briefly on Saturday on the official WeChat account of the People's Daily, since deleted, Zhou is being held in the small town of Yanggu, Shandong. Yanggu is the site where, according to Chinese legend, the hero Wu Song defeated a Chinese tiger. "The battle against Zhou is [Xi's] masterpiece, and he wants every single detail to be perfect," Qiao Mu, a professor of media studies at Beijing Foreign Studies University, told Bloomberg.
Given the severity of the alleged crimes, Zhou is likely to get a suspended death sentence, which is usually commuted to life imprisonment after two years, says Tong Zhiwei, a law professor at the East China University of Politics and Law in Shanghai.
Before it's here, it's on the Bloomberg Terminal.
LEARN MORE