Football, the Huddle, and Innovation
Innovations provide an advantage until someone copies it or the Next Big Thing comes along. The challenge for management is to figure out a structure that keeps the ideas—and innovations—flowing
By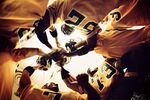 In 1921, the University of Illinois's football team became one of the first to huddle before each play. These mini strategy sessions must have made a difference: The team went on to win the national championship two years later.
Today it would be unimaginable to play a football game without huddles–except, of course, when teams use a "no-huddle" offense, a back-to-the-future innovation the Cincinnati Bengals introduced in 1988. The Bengals won the AFC Championship that year, and quarterback Boomer Esiason was named the NFL's Most Valuable Player.
The simple lesson here is that innovation can give you a competitive advantage, even put you on top—but only until others copy what you've done or the Next Big Thing replaces it. Innovation must be an ongoing process.
But sustaining innovation can be a challenge. Some companies do it well; others struggle. This is especially true among newer companies without strong support systems to keep the momentum going. As a result, companies that show great promise sometimes end up like "one-hit wonders" in music: They achieve a lot of success early on, then lose their mojo.
Consider that only 4 of the 10 up-and-coming companies that were identified as promising innovators in Boston Consulting Group's latest innovation survey also were on the list in 2013. "Too many companies want to shoot for the moon while their innovation programs are barely airborne," the authors noted.
There's an important distinction between strong innovators and breakthrough innovators. The latter put a higher priority on innovation than other companies, cast "a wider net for ideas," emphasize business model innovation as well as product innovation, and develop company cultures "geared toward breakthrough success," according to the survey.
Which companies do it best? Survey participants identified the top 50, but you can also see the movement of companies on, off, and around the list since 2005.
What should concern us most here is how management can best organize for success in the critical area of innovation. One approach is for a company to build a "dedicated innovation entity." A major energy company, for example, put together a 10,000-person division–almost 10 times larger than the entire MIT faculty–dedicated to technology and R&D, reporting directly to the chief executive officer. Other companies have similar setups on a smaller scale. Still others search for the Next Big Thing by sponsoring new-idea incubators and accelerators.
Regardless of the size or nature of the effort, the important point is that the innovation team must have top management's full support and sufficient resources to get the job done. They need to embrace risk and failure as integral parts of the process. And they need to realize, as Kraft Foods Vice President Barry Calpino told the Knowledge@Wharton podcast this summer, that "big wins" don't come easy. They take time; "you have to have staying power."