Ted Cruz Doesn't Have the Votes to Shut Down Government, Fellow Republican Says
Representative Tom Cole of Oklahoma threw cold water on the senator's hopes of defunding the government to protest the president's executive orders on immigration.
By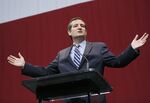 Senator Ted Cruz's government shutdown hopes appear to have hit a Republican wall. Speaking Monday on Bloomberg TV, Representative Tom Cole, a Republican from Oklahoma,  declared that Cruz lacked enough GOP votes to prevent Congress from passing a spending bill that will keep the government in business. 
"No, I don't think he's got the votes for this. There'll be bipartisan support for this. There'll be bipartisan opposition," Cole said. "There's some Democrats that are very concerned about some of the authorization for Syria operations. There's always folks on the right that are concerned that any bill, even though this meets the Ryan budget goals, they would prefer to spend less. I get that, but at the end of the day I think the votes are there, the agreements have been made, and it's very bipartisan because remember, the Democrats still control the United States Senate."
Cole stressed that the deal reached to avert a shutdown had bipartisan support. 
"Remember this is a compromise arrived at with a Democratic Senate so there were Democratic concerns at the table and the Democratic president has to sign it so he certainly has some leverage as well," Cole said. 
When asked how many Republican defectors would vote against the measure, Cole demurred. 
"First of all, I wouldn't consider them defections because it's not an exclusively Republican bill. If you had something that only Republicans were able to write, you'd probably get almost everybody we needed. Since Democrats have at least half the leverage in this, it's really two-thirds because they have the president, we're not going to be able to get every objective that we'd like to achieve, but at the end of the day they're not defections when you don't need the votes."
Still fuming over President Barack Obama's executive order on immigration, Cruz has been imploring his fellow Republicans to try and defund parts of the government to try and thwart Obama. He helped engineer the government shutdown in 2013.
"The simple thing that I would urge to every Republican who spent the last year campaigning across this country saying 'If you elect me, we will stop President Obama's amnesty,' do what you promised," Cruz said last week. "Doing what you promised doesn't mean, as it so often does in Washington, sending a really stern letter and having a meaningless show vote."